Poland cheerleaders win awards, serve community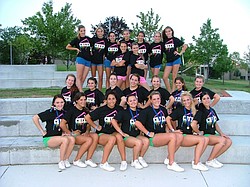 Photo
Neighbors | Submitted.Shown are the Poland cheerleaders, who earned several trophies and individual awards over the course of this summer. Among those accomplishments are the prestigious honor, the "Why America Needs Cheerleaders" award, given to them by the Universal Cheering Association...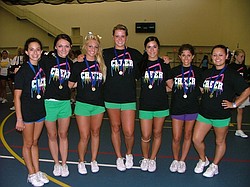 Photo
Neighbors | Submitted.Several of the Poland cheerleaders opted to compete for the recognition as All American. Pictured, from left to right, are the successful All American cheerleaders Gabi Carbon, Katie Rubesa, Kelsey Gill, Makenzie Clark, Natalie Dragovich, Marissa Chiaro, and Kayli Jack.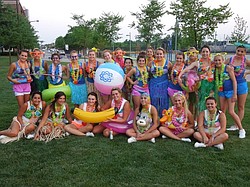 Photo
Neighbors | Submitted.Poland HS Cheerleaders celebrate after winning spirit sticks and the spirit banana at their cheerleading camp. At the camp they competed against 12 other quads from five other Ohio schools.
Poland Seminary High School freshman, junior varsity and varsity cheerleaders won many awards this summer for their hard work and giving to charity.
The girls, along with cheerleading advisers Cheryl Makoski and Julie Rinehart, recently participated in a cheer camp organized by the Universal Cheerleading Association (UCA) at the University of Akron June 19-22. They also collected donations and took part in the 24-hour Poland Relay for Life walk July 6-7 at the football stadium.
At cheer camp, the Poland cheerleaders learned new cheers and dances, participated in skills training and competed against 12 squads from five other Ohio high schools. All training and competition was conducted under the supervision of the professional UCA staff.
During the week, the girls performed Poland's traditional fight song dance and competed original "home pom" dances that each squad choreographed and practiced throughout the spring. They also competed with new material learned.
During competition, the PSHS cheerleaders earned several trophies and individual awards. The varsity and junior varsity squads combined won the second-place trophy and the freshman squad took first place with the extreme routine dance they learned at camp.
The varsity squad also earned the superior squad award for the extreme routine, first place for its "home pom" dance and second place for the big cheer learned at camp.
A very prestigious camp honor, the "Why America Needs Cheerleaders" award, went to PSHS for outstanding spirit and leadership qualities displayed by all Poland squads.
The PSHS girls earned many individual honors, as well. Several Poland cheerleaders chose to compete to be named All-American by UCA staff. Freshman Gabi Carbon, junior Marissa Chiaro, and seniors Natalie Dragovich, Kayli Jack, Katie Rubesa, Kelsey Gill and Mackenzie Clark all received that distinction. Junior Becca Potkanowicz was crowned jump-off queen in the JV jump-off competition.
Freshman Marsia Manna and seniors Mallory Magni and Natalie Dragovich were awarded pins in UCA's "Pin it Forward" program, where cheerleaders are selected for displaying exceptional personal leadership, spirit, commitment, friendliness and motivation.
At the Poland Relay for Life, the squads worked together to walk the track for 24 straight hours. The cheerleaders collected more than $500 to help cure cancer.
More like this from vindy.com