Phelps swims to record 16th gold meda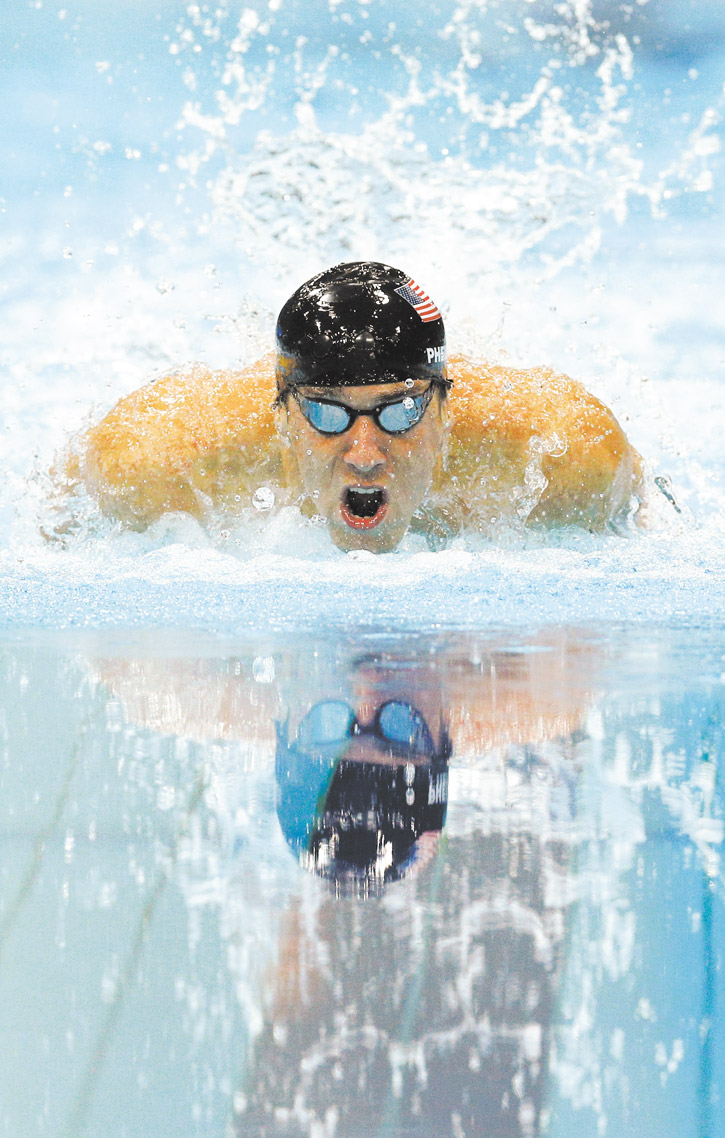 ---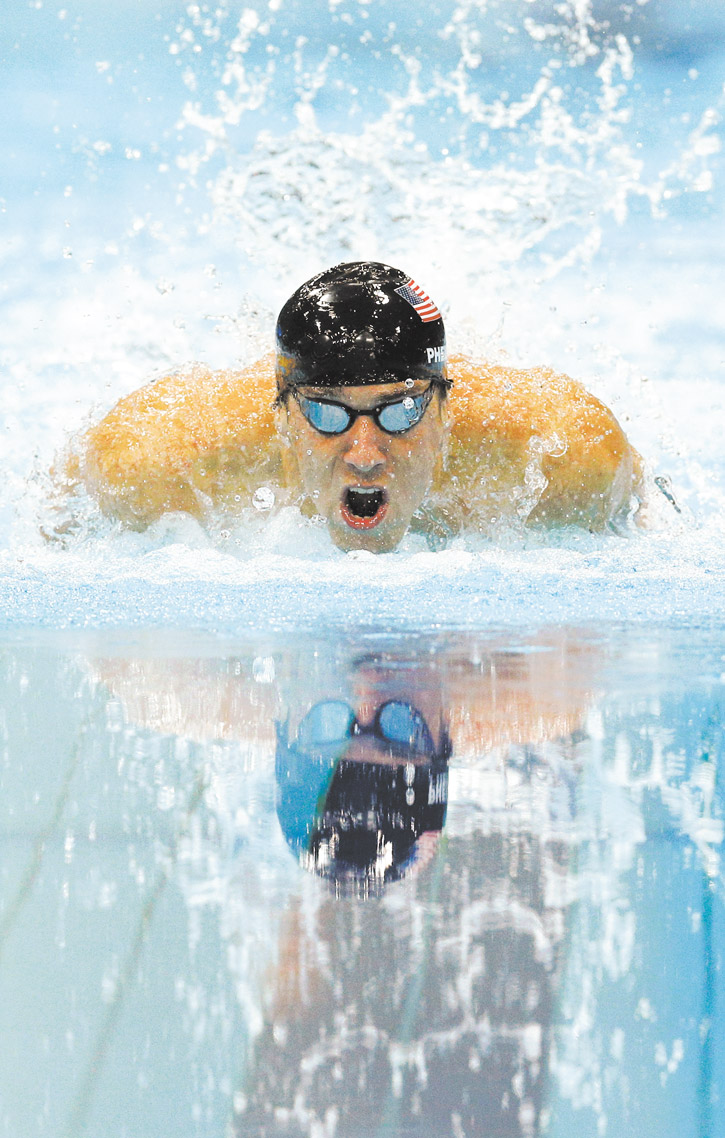 Photo
Amercia's Michael Phelps earned his record-16th gold medal — the 20th medal of his Olympic career — at the Aquatics Center in Olympic Park in London on Thursday in the men's 200-meter individual medley and became the first man to win an individual swimming event at three consecutive Games. United States athletes racked up eight medals Thursday to surpass China in the medal count.
SEE ALSO: Douglas swings her way into history.
Associated Press
LONDON
Michael Phelps spent the day thinking about all the things he's doing for the final time at the pool. It turns out that included one last win over Ryan Lochte.
Phelps finally got a gold all his own at his final Olympics.
Adding to an already unprecedented medal collection, he claimed his first individual victory of the London Games and handed Lochte a double disappointment on his rival's final night in the pool Thursday.
Phelps set the tone right from the start with a dominating butterfly leg to become the first male swimmer to win the same individual event at three straight Olympics in the 200-meter individual medley. He claimed his 20th career medal — and 16th gold — in 1 minute, 54.27 seconds, just off his winning time in Beijing but still good enough for gold, ahead of Lochte.
When it was done, there wasn't that water-pounding celebration we've seen so many times from Phelps — just a slight smile as he hung on the lane rope, gazing up at the stands and soaking it all in.
"Going into every call room, I said it's my last semifinal or my last prelim," Phelps said, reflecting on a busy day that included a morning swim, then two more races in the evening. "We're kind of chalking up all the lasts of certain things."
As he powered to the wall, his mom Debbie screamed, "Go! Go! Go!" When Phelps touched first, she dropped her head, kissed her two daughters — both former swimmers — and let the tears flow.
When Phelps stepped on the medal podium — yep, that familiar top rung — his eyes were glassy and he whispered a joke to Lochte, trying to keep the moment light. Then, staring up at the U.S. flag while the national anthem played, Phelps bit his lip and seemed to be struggling to hold back his own tears.
"Once it's all over, it's going to really hit me emotionally," he said. "I know for my mom it's very emotional. I'm the last Phelps to come through. She's watched my sisters go through the sport and retire."
Phelps has never been too revealing with his emotions away from the pool.
But, with just two days to go in his swimming career, there's a definite chink in the facade.
He's starting to look as human out of the water as he seems superhuman in it.
"To be able to win the gold medal and be the first to threepeat, it means something," said Phelps, whose first gold in London was swimming the anchor on the 4x200 freestyle relay. "It's pretty special and something that I'm very happy for."
So a farewell games that started as a bit of a disappointment is definitely looking up. He's now won two golds and two silvers in five races — not the eight golds in China, but a more-than-fitting capper to a brilliant career that still has two more races to go: the 100 butterfly Friday and the 4x100 medley relay Saturday.
Lochte settled for silver in 1:54.90, having split with Phelps in their two head-to-head races in London. Hungary's Laszlo Cseh took the bronze, well behind the Americans in 1:56.22.
"Ryan and I have had a lot of great races," Phelps said. "He has brought the best out of me many times."
Ever the competitor, Phelps had hoped to go even faster, looking to not just win gold but take down Lochte's world record of 1:54.00 from last year's world championships.
"I wanted to get all golds in my events, but you know it didn't happen," Lochte said. "I'm going to have to live with that and move on and learn from it. Try not to make the same mistakes in the next four years.
"For the most part," he insisted, "I'm pretty satisfied."
More swimming records
Rebecca Soni set a new world record and won gold in the women's 200m breaststroke. Soni is now the first woman ever to break the 2:20 barrier, finishing in 2:19.59. Satomi Suzuki of Japan took silver, and Yuliya Efimova of Russia earned bronze.
Tyler Clary beat out defending gold medalist Lochte in the men's 200m backstroke. His 1:53.41 is a new Olympic record.
Clary surged back from third place with 100m remaining to pass both Lochte and Ryosuke Irie of Japan. In the final 25 meters, Irie passed Lochte, claiming silver in 1:53.41. Lochte nabbed bronze, his tenth Olympic medal, in 1:53.94.