Penney rolls out revamped sales model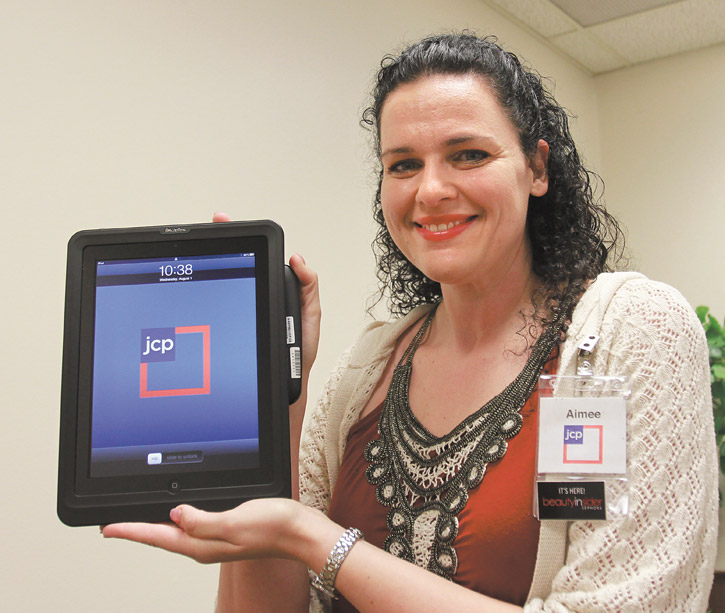 ---

Photo
Aimee Reyes, store manager at J.C. Penney in Southern Park Mall, Boardman, displays an iPad checkout, which associates will use at points throughout the store. J.C. Penney has been in the process of once again reinventing itself by developing its "Fair and Square Program" and renovating stores to create a marketplace with several outlets.
BOARDMAN
After a rocky first quarter of 2012, J.C. Penney Co. is making changes to its sales model to bring back customers.
The department-store giant is offering free children's haircuts throughout this month and had entertainment for children starting Monday to launch the company's back-to-school shopping efforts.
The company's goal is to get back to the stores people who might have left when the company changed strategies a few months ago to a new pricing model, no sales and fewer coupons.
"These children are going to be the store's customers for a long time," said AnneMarie Mullinix, style-department leader at the Boardman store.
"We're going to cut well over 100 children's hair today," she said.
The numbers will go way up as it gets closer to the start of school. The store already has filled most of the appointment slots later in the month, Mullinix said.
"This is a great way to promote the style department and our entire store," said Aimee Reyes, store manager.
Industry analysts questioned the strategy when new chief executive Ron Johnson created a new approach for the company that called for lower daily prices, month-long sales and periodic sales events.
J.C. Penney Co. lost $163 million in its first quarter, which ended April 28. Revenue was down 20.1 percent to $3.15 billion. At the same time, the company said it had experienced an 18.9 percent drop in same-store sales compared with the first quarter of 2011.
Despite the fact that Penney sales throughout the country have been down, the local store has experienced a lot of traffic, Reyes said.
"This store has a lot of tradition within the community," she said. "There are also products at the store people are used to purchasing they cannot get elsewhere."
She said the Boardman store has been successful having employees explain the new pricing structure to customers.
"Our prices are the same as other stores when they're having sales. You just don't have to play the games," Reyes said.
The term "clearance" has been brought back, Reyes added.
"Clearance never really left. We just called it 'best price.' We didn't do a good-enough job communicating to people what 'best price' means," she said.
The company also is upgrading the store as part of its change efforts. The company is adding Levi's areas in the men's and women's section that include iPads to help people determine the right fit, she said.
The company also plans to add more brand-specific sections at the Boardman store.
This includes a section with designs from Youngstown native Nanette Lepore, which is supposed to arrive next year, Reyes said.
"We want to be the first specialty department store," she said.
The children's department also has been redesigned to now include children's shoes and clothing in one area to make shopping simpler for parents.
Laura Billet brought her son Will Bevington in for a haircut before he starts school Aug. 27 in Leetonia.
"This is a really nice thing they're doing for the community," she said.
Another mother, Sheila Algaier of Salem, brought her three daughters in for haircuts after reading about the promotion in the newspaper.
"I put this on Facebook and told everybody I could," she said.