Army of Americorps volunteers clears blight in Youngstown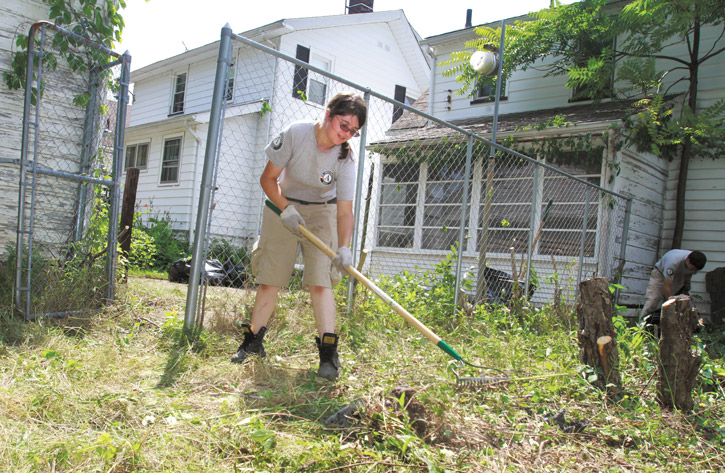 ---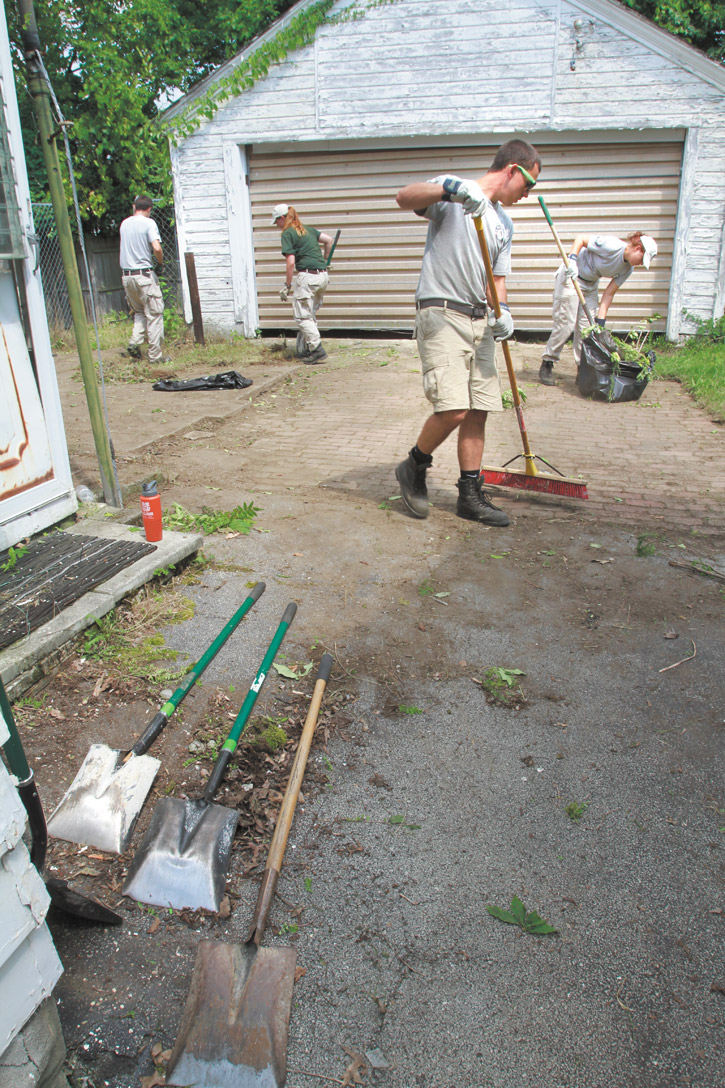 Photo
Shovels and elbow grease - as the Americorps National Civil community Corps Team cleaning up the Idora Neighborhood as they worked at a house on Brentwood.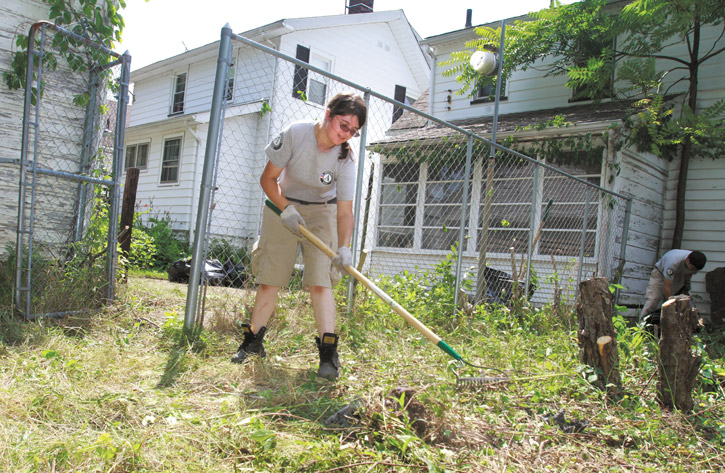 Photo
No easy task as Laurie Miller - Leader of the group - rakes the backyard of vines and debris - Americorps National Civil community Corps Team cleaning up the Idora Neighborhood as they worked at a house on Brentwood.
YOUNGSTOWN
Nate Sacks, a 19-year-old student at the University of Arizona, wanted to take a break from school and "explore the world."
So Sacks, who lives in Tucson, joined the AmeriCorps National Civilian Community Corps and is traveling around the country — to such places as Shawnee National Forest in southern Illinois, Vinton and Cedar Rapids, Iowa, and Youngstown.
Sacks and the nine other members of the NCCC's Oak 1 team arrived in Youngstown on July 10 and will stay until Aug. 16.
Team members, who range in age from 18 to 25, work with the Youngstown Neighborhood Development Corp. on projects throughout the city but primarily on the South Side.
The group spent this week cutting trees and brush and removing trash from two vacant properties on Brentwood Avenue in the Idora Neighborhood.
"I wanted to get away from school for a little while," Sacks said. "I like this program and the people. I'm traveling the Midwest helping out communities. It's a great feeling. I like Youngstown. Everyone knows each other, and everyone is happy we're helping."
This is the second AmeriCorps NCCC team this year to help the YNDC, a neighborhood organization focused on improving the quality of life in the city. A group that spent March 12 to April 27 helped with urban gardening, boarding vacant homes and clearing lots.
The program is a full-time service project for 10 months for young adults. Teams work on projects such as constructing and rehabilitating low-income housing and responding to natural disasters.
Each member gets free room and food and $5,550 to help pay for college or to pay back student loans.
Laurie Miller, a 21-year-old from North Providence, R.I., left the University of British Columbia in Canada after two years [she's originally from Canada] to join the NCCC.
"I was in college, and I wanted a time-out to choose my major," she said. "I love the program. I'm hoping to apply for a second year as a team leader. I'm growing in ways I didn't expect: leadership, my organizational skills, time management and professional etiquette."
Miller also had kind words for Youngstown saying the people are very friendly and appreciative of her team's work.
Jessica Arthur, a 21-year-old from North East, Md., who finished two years as a business communications major at Cecil College, is also in Youngstown as part the NCCC program.
"I wasn't sure about my major and I needed time to think about what I could do," she said. "I thought community service was a good way to help me think about what I wanted to do while I help different communities."
As for Youngstown, Arthur said she's surprised at how big it is, adding she likes the city.
"This has been my favorite project because you see immediate results," she said. "After you've cleaned a lot, you see what you've accomplished."
Arthur is also thinking of signing up for another term with AmeriCorps as a team leader.
Ian Beniston, YNDC's deputy director, said the AmeriCorps teams have provided valuable assistance to the city.
"There's no shortage of vacant homes" in Youngstown, he said. "We could have a team nonstop for 20 years and still have work to do. There are tons of vacant homes. They do good work."