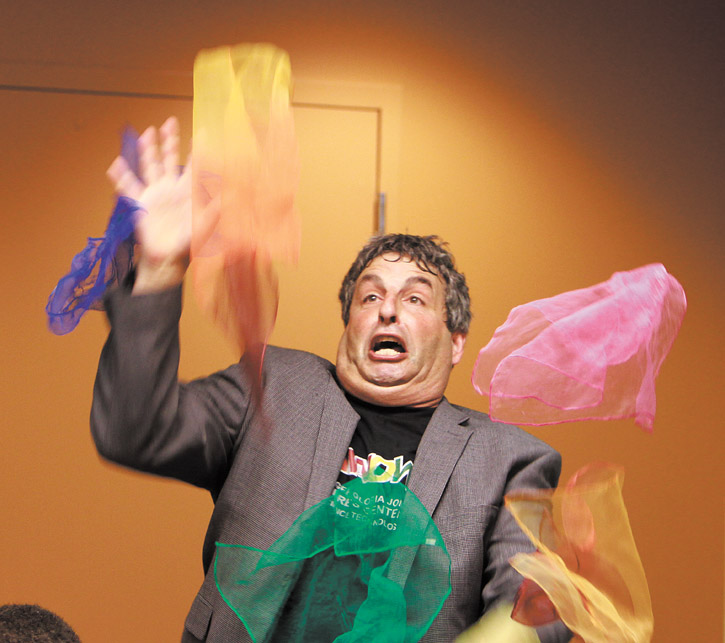 ---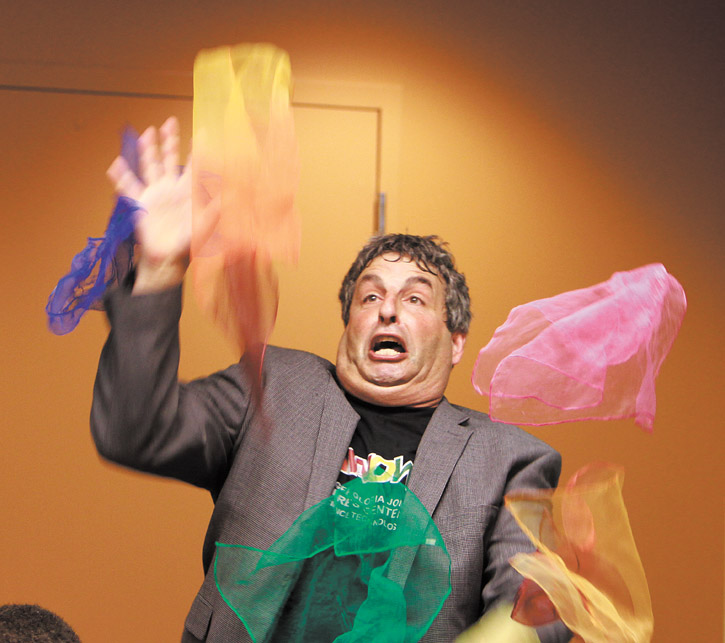 Photo
Jeff Raz, renowned juggler, actor, playwright and performer with Cirque du Soleil, had a juggling workshop at Oh WOW! The Roger & Gloria Jones Children's Center for Science & Technology in downtown Youngstown. Raz performed Wednesday and showed center members and guests his techniques.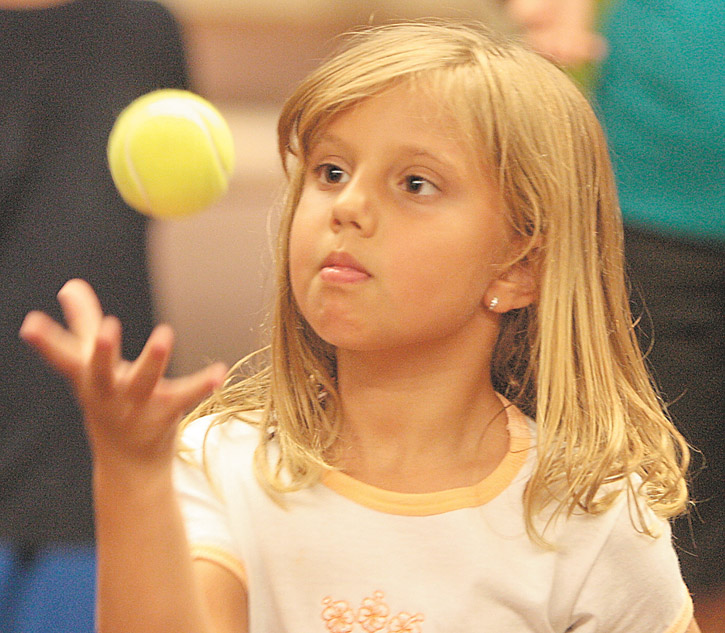 Photo
Gianna DeNiro, 6, of Boardman, is focused as she practices her juggling. Raz used the workshop to help the children learn about the laws of motion and gravity.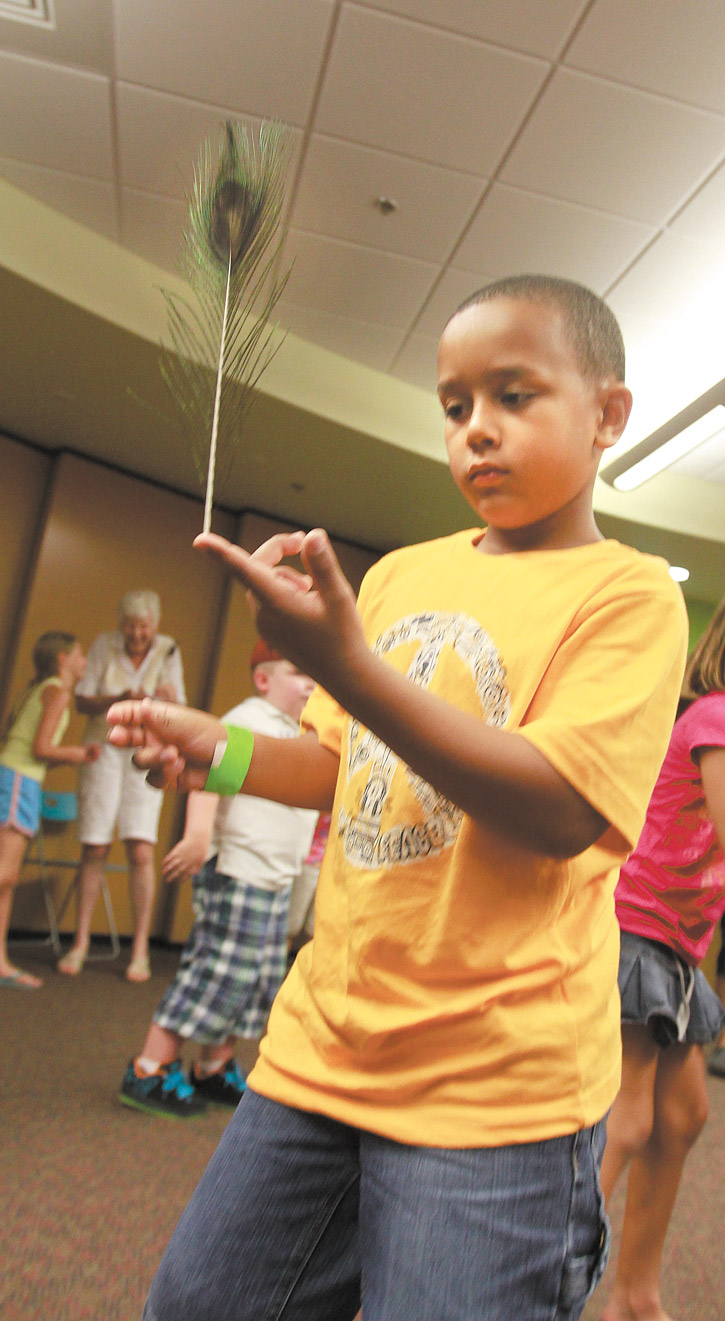 Photo
Caleb Sakara, 6, of Youngstown, practices his balancing skills at the workshop.
By Sean Barron
YOUNGSTOWN
When Jeff Raz isn't juggling his time as an actor, playwright, clown or teacher, you might find him juggling tennis balls and colorful scarves.
"I began juggling at age 14. At one point, I was a young juggler and that all changed," the Alameda, Calif., man said with laughter.
Raz wasn't the only one laughing, however. So were an estimated 50 children and adults who took part in a juggling and science performance he conducted Wednesday at OH WOW! The Roger & Gloria Jones Children's Center for Science & Technology, 11 W. Federal St.
Raz asked his audience to form a circle, then began by asking attendees whether a ball or a scarf will hit the floor first if dropped at the same time. A few trial runs later, the small conundrum was solved to the satisfaction of youngsters and adults alike.
"The scarf hits a little air and goes down a little more slowly," he explained.
Raz then jumped into a variety of balancing tricks and juggling patterns often synchronized to music using scarves, peacock feathers and tennis balls on his arm, head, feet and finger, as well as a chair on his chin, before having participants practice those moves — though minus the chair.
With continual encouragement from Raz, some children such as 6-year-old Gianna DeNiro of Boardman seemed naturally adept at using certain laws of gravity to their advantage.
"I really like when the scarf thing happened," an excited Gianna said before proudly mentioning that she had successfully balanced a peacock feather on her knee.
The show was the first time viewing a juggling performance, said Gianna, a West Boulevard Elementary School first-grader.
Gianna attended with her mother, Jennifer DeNiro; her 3-year-old brother, Anthony DeNiro; and her grandmother, Janie Morckel of Salem.
Equally in sync with the action was Anna Olivier, 10, of Boardman, who needed a little encouragement from her mother, Laura Olivier, to attend but was glad she did.
"I liked how we got to try to juggle the ball and scarves," said Anna, a Center Middle School fifth-grader. "It was fun."
Anna, who listed singing, dancing and gymnastics as her favorite activities, was able to juggle three scarves and balance a feather, she said.
Also performing her own balancing act was Anna's 6-year-old sister, Catherine Olivier.
The children's center, which opened in 2010, is dedicated to fostering independent thinking and enriching children's lives by creating "a wholesome environment to allow them to develop learning skills and knowledge via hands-on interactive exhibits and educational programs rooted in science, technology, engineering and mathematics," its mission statement says.