Wait for Route 224 soil cleanup continues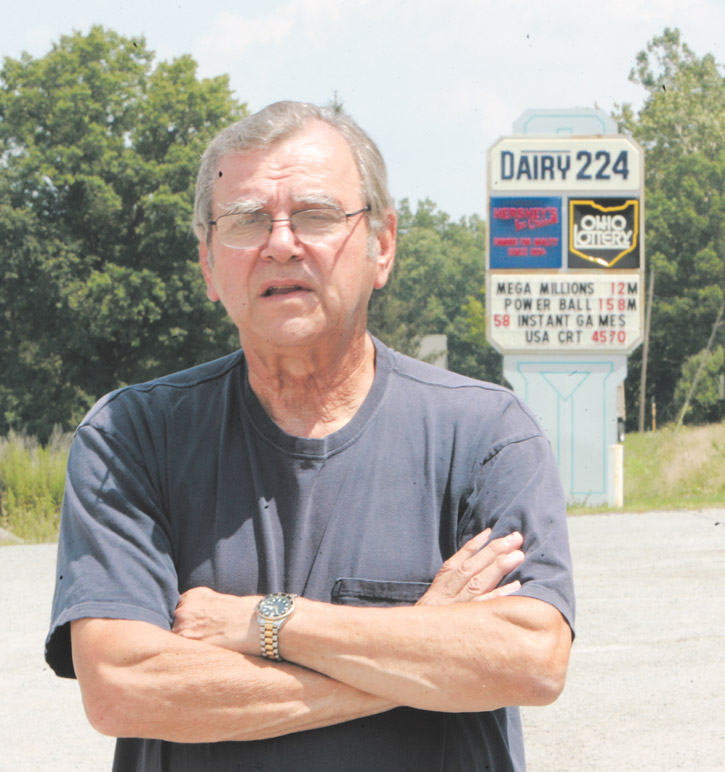 ---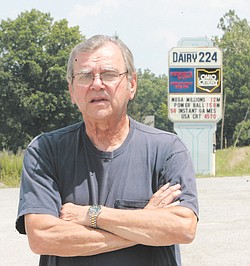 Photo
John Kotchman Dairy 224 on the Ohio Pa line awaits for the repair of a tanker truc k spill that has lingered on for years because of contaminated soil - it is the area that is a different color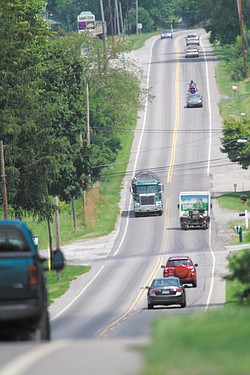 Photo
Work to remove and replace contaminated soil under and beside U.S. Route 224 from Stymie to Lowellville roads should begin soon. In 1983, a tanker truck tipped and dumped about 1,000 gallons of a chemical onto the road and into nearby yards.
POLAND
After waiting nearly 30 years for contaminated soil to be removed, residents and business owners along U.S. Route 224 between Stymie and Lowellville roads will have to wait a little longer.
"We are still waiting for the final environmental permit to be obtained, which should arrive mid-this week or early next week," said Brent Kovacs, spokesman for the Ohio Department of Transportation District 4.
The $500,000 project, which was expected to begin Monday, consists of ripping up the section of Route 224 between those two roads, digging 2 feet under the road to remove and replace contaminated soil, and installing new pavement on top. ODOT also will dig out contaminated dirt on ditches and replace two culverts, Kovacs said.
Route 224 at the Pennsylvania state line will be closed Sunday through next Wednesday for the first culvert replacement. The detour will be state Route 616 to Route 224 to PA Route 551, Kovacs said.
During the second culvert replacement at the spill site, Route 224 will be closed from Aug. 19 to 21, he added. The entire project should be finished by October.
On Sept. 15, 1983, a tanker truck tipped and dumped about 1,000 gallons of a chemical onto the road and into nearby yards. The chemical was an additive used in gear oil and manufactured by Lubrizol. A company spokeswoman told The Vindicator in 2009 that it's a mixture of sulfur, carbon and hydrogen. In the same interview, she told The Vindicator that the chemical is not toxic or hazardous, but could irritate skin.
The nearly 30-year delay was caused, Kovacs said, by waiting to secure "funding with federal and state governments and getting all of the environmental permits."
John Kotchmar, owner of Dairy 224, a convenience store located close to the spill area, has been urging officials for years to clean up the soil, which still emits an odor similar to that of rotten eggs.
"Initially, the smell was very, very strong. We're about 300 yards to the east of the spill site," Kotchmar said.
He said his store, which opened in 1979, already has lost business because of a Route 224 bridge closure farther east in Pennsylvania.
Those projects, combined with the planned closure on Route 224 to the west at the spill site, have Kotchmar worried that his business will be hurt even more.
Still, he said he's glad that the problem finally is being corrected.
"I had dozens of complaints every week about the condition of the road and the smell, so I decided to get involved," he said.
Kotchmar said he does not think the government, and therefore taxpayers, should have to foot the bill.
When asked why companies involved in the spill weren't paying for it, Kovacs replied: "As far as I know, the trucking company that had the crash and caused the spill went out of business."
Poland Trustee Mark Naples said he was told that ODOT had always prepared to undertake the project and said so publicly for years.
"We're very glad with the follow-through and that this is getting done," he said.