Canine co-workers lighten the load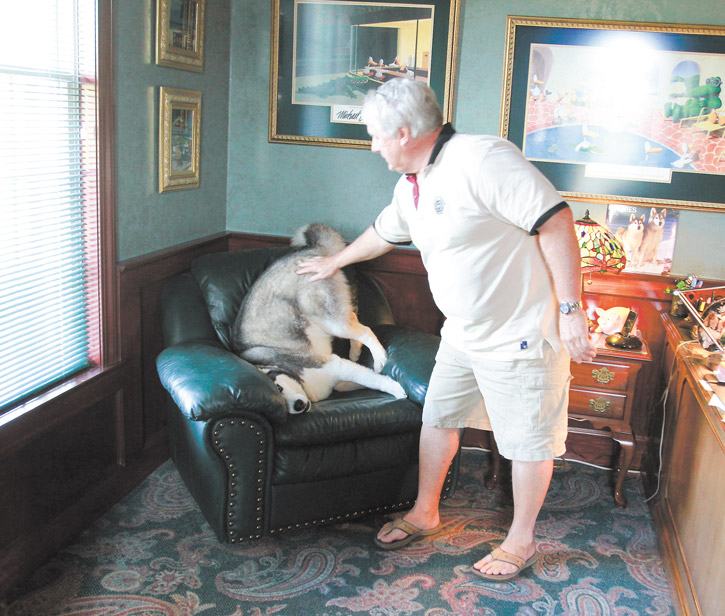 ---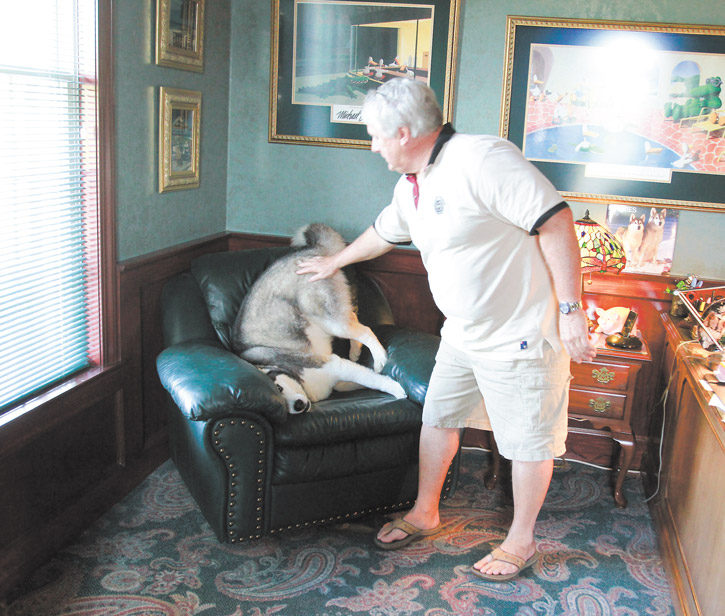 Photo
Atty. Jack Vaughn's dog, Mush, suffers from severe separation anxiety so Vaughn brings the dog to work with him.
By DENISE DICK
denise_dick@vindy.com
BOARDMAN
Mush meets clients and visitors to Jack Vaughn's law office with a wagging tail and not so much a bark as a greeting warble.
Treats aren't required, but they are appreciated.
Mush may be the most enthusiastic member of the Marwood Circle office. He's definitely the hairiest.
The 4-year-old Siberian husky started accompanying Vaughn each day to work when the dog was about 6 months old. He makes his rounds each morning, visiting all of the employees and then camping out on the floor or in one of the leather chairs in Vaughn's office.
Vaughn, who sits on the board of Animal Charity, got Mush when the dog was 6 months old from a couple who couldn't keep him when they were expecting a baby. Mush is Vaughn's fourth husky.
"When I brought him home, he always wanted to be with somebody," Vaughn said. "After he ate my couch, I brought him here."
At White House Fruit Farm in Green Township, Bonnie, 5, and Molly, 1, a border collie and a cockapoo, respectively, greet customers. Bonnie runs up with a stick, drops it at the customer's feet and barks if the customer doesn't pick it up and throw it as quickly as she deems appropriate.
If that customer isn't interested in playing her game, she goes on to the next one. Most people Tuesday morning obliged the playful pup, tossing the stick into the parking lot before pushing their carts to their cars.
Bonnie adjusts the distance she goes out for a throw depending on who's throwing, said Debbie Pifer, owner of the business and both dogs.
If it's a child, she goes a short distance. For women, it's a little farther, and for men, Bonnie goes long.
A basket of sticks and balls sits by the door of the business. This time of year, Bonnie spends much of her days fetching sticks thrown into the nearby pond.
She also enjoys spending time with children who go to White House's play area.
"She's here eight hours a day, six or seven days a week," Pifer said.
Molly takes her turn with the sticks, too — although not with the same devotion.
"We've always brought our dogs here," Pifer said.
Each morning Bonnie sits and waits by the car or in the family truck to go to work.
"She's more popular than we are," Pifer joked.
Employees at both places appreciate it, too.
"If I don't bring him in for some reason, everyone says, 'Where's Mush? Where's Mush?'" Vaughn said.
White House employees play with Bonnie and Molly before customers arrive.
Besides the enjoyment, there also are health benefits.
The website for the Centers for Disease Control and Prevention says pets can lower blood pressure, cholesterol and triglycerides.
Having pets in the workplace also can reduce anxiety and boost morale, said Katie Costello, a certified dog trainer and co-owner of The Learning Dog Training & Enrichment Center, North Main Street, Hubbard.
"It's nice to have a dog there with a tail wagging that's just happy to have you pet them," she said.
Costello also started K9s for Compassion, an organization that brings animals into hospitals and nursing homes.
She heard repeatedly from employees who completed questionnaires saying the visits from the animals were the brightest part of their day.
Costello cautions, though, that bringing a dog to work isn't ideal for every dog or every workplace.
"As much as I love the idea of a dog living in a nursing home, there are dangers," she said.
The animal could swallow pills discarded by a resident and it may be difficult for veterinarians to treat the dog, not knowing what it ingested.
"There should be some sort of health and behavioral screening for dogs going into these facilities, otherwise it could be a liability for the business," Costello said.
The dogs need to be comfortable with all kinds of people, too, she said. It's also important to understand a dog's fears and that while they may seem silly to us, they're very real to the dog. The animal shouldn't be pushed.
Often though, bringing pets to work is a positive experience for the pet as well as its human co-workers.
"If the dog is comfortable, definitely," Costello said. "The more the dog is exposed to different things, the more comfortable they'll become. The biggest thing is not to try to push a dog through it."
Back at the law office, Vaughn can only recall a couple of occasions where a client wasn't comfortable with the dog and he put Mush into another office. In one instance, the woman was allergic. In the other, the person didn't like or was afraid of dogs.
"But 99.9 percent of the time, it's been positive," Vaughn said.