Case closed: Judge Douglas retires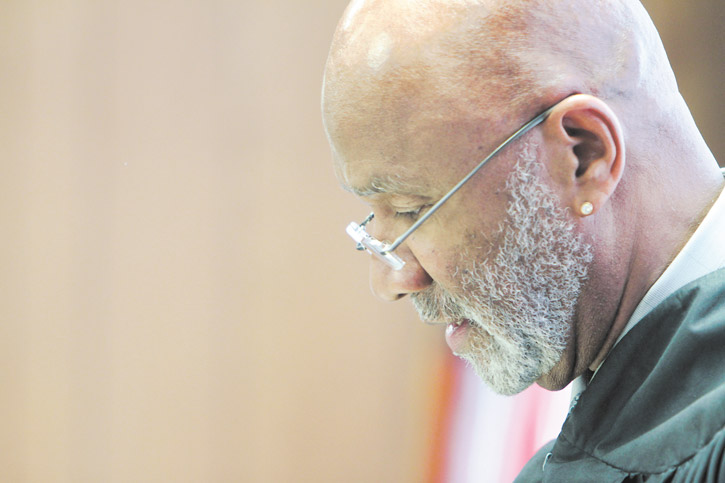 ---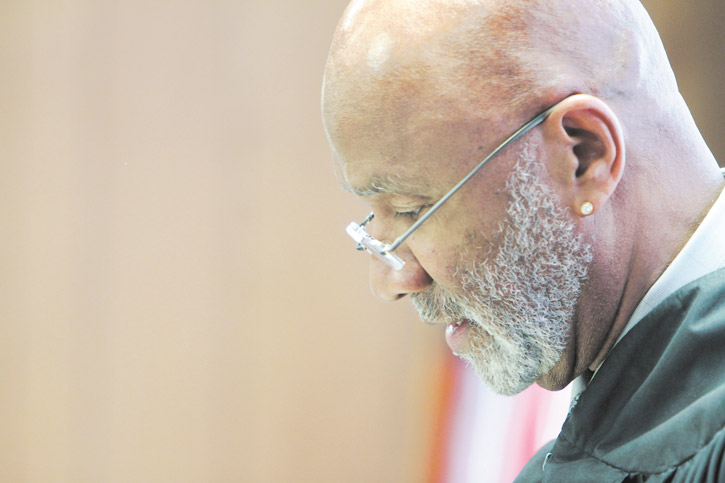 Photo
Judge Andrew Douglas - Samantha Yoder, involved in an accident in which a woman died near YSU, will be sentenced by Judge Douglas in Youngstown Municipal Court.
YOUNGSTOWN
The Youngstown Municipal Court courtroom of Judge Robert A. Douglas Jr. is usually busy with legal activity, but the court papers and defendants were replaced with cake and well-wishers Tuesday.
Tuesday was officially the judge's last day on the bench. He has retired.
Because of state law dealing with the age of judges, Douglas, 72, couldn't seek re-election next year. The judge said he has no plans to practice law but is willing to serve as a visiting judge during his retirement.
Judge Douglas spent Tuesday seemingly relaxed in casual brown slacks, a tan shirt and matching brown and tan shoes. The judge shared cake and punch with people who came through the court to wish him well.
Judge Douglas said he has no regrets about his retirement.
"I have too much to look forward to," he said.
Judge Douglas has been handing down justice in the city since being appointed to the bench in 1997. It was an interesting journey for a man who at one time wanted to be an engineer.
"What I have become is a social engineer dealing with people, which is much more challenging," he said. "That is what has always made the job interesting, dealing with people."
Judge Douglas graduated from the University of Pittsburgh with a master's degree in social work in 1970 and decided he wanted to obtain a few additional years of education. He considered a doctorate in social work but decided instead to enter law school because he realized law impacted every facet of life.
"That was a powerful and wonderful ticket. That was just something I felt would be worthwhile to invest in," he said.
Judge Douglas entered the University of Akron School of Law part time, graduating four years later. After law school, he worked for legal services, the Community Development Agency, the Trumbull County welfare department, former U.S. Rep. James A. Traficant Jr. and Mahoning County Job and Family Services.
Judge Douglas actually retired in 1996 and began working as a consultant until his phone rang while he was away on vacation with a message from former Gov. George Voinovich stating that he was being called to the bench in Youngstown.
Judge Douglas said being called to the bench was one of the highlights of his career in law.
"I believe it was the hand of God the way it all happened. I accepted it as a calling to be here and do the best that I could," he said.
Norma Marzano was a veteran bailiff in the court when Judge Douglas took the bench. She worked 10 years for the judge before retiring. She said the retirement is well-deserved but a loss to the community.
"I was here 36 years, and he is one of the most caring and compassionate judges I ever worked with," she said.
John Spivey, the judge's current bailiff, will remain in the court working with visiting judges but said Judge Douglas will be missed.
"Today is a bittersweet day," he said.
The judge has travel plans and also would like to spend time getting citizens more involved in the political process.
"I have a couple of projects in place. I have a building with some of my toys in it that I want to fix up. I enjoy traveling. I really just want to do what I want to do, and I have a lot that I want to do," he said.