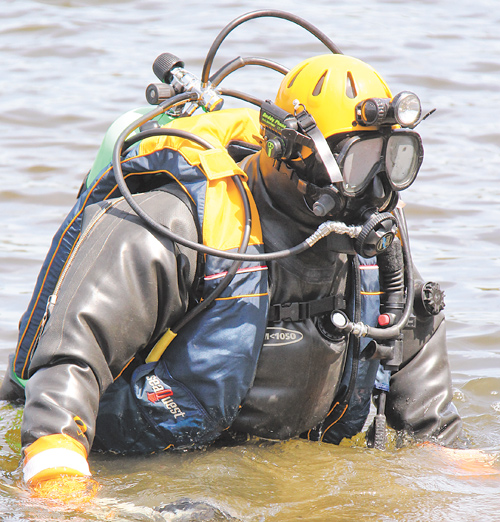 ---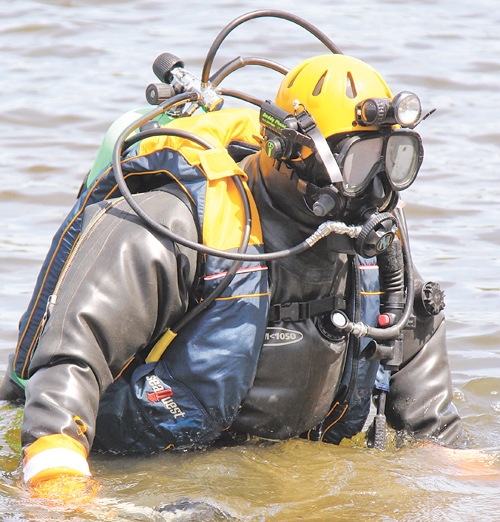 Photo
John Mesmer of Struthers slowly walks backward into McKelvey Lake in Youngstown where the Mahoning County sheriff 's dive team trained Sunday in locating evidence at the bottom of a lake.
By Sean Barron
YOUNGSTOWN
It's difficult to drive by or walk around McKelvey Lake on the East Side and miss the natural beauty that defines and surrounds it.
Isolating the lake from any hint of urban trappings are thick wooded areas that reveal little more than the occasional home that dots the landscape. Inland a bit are four radio transmitter towers that rise above the tree line.
In addition to the pristine scenery, however, McKelvey Lake is perhaps best known for what it doesn't so easily give up: a longtime negative reputation because of what's fallen into it.
For decades, McKelvey Lake has had the dubious distinction of being a dumping ground for stolen jewelry, knives, safes and, on occasion, bodies of homicide victims. One side of the Jacobs Road bridge has no sidewalk, so those wanting to quickly and anonymously dispose of stolen goods can do so without leaving their vehicles.
As a result, the dark, murky water also has been the final resting place for countless makes and models of firearms. On Sunday, though, several such items were carefully lifted from their watery grave, thanks to the efforts of the Mahoning County Sheriff's Department's dive team.
Twelve of the team's estimated 40 members conducted a practice training dive Sunday in the lake and on the Jacobs Road bridge.
"It's too bad they didn't leave their name and address on it," Brian Kailer yelled from the 51-degree water to several dive-team members on the 12-year-old bridge.
Kailer, who's been on the team at least 10 years, found in a plastic bag a gun containing seven 9-mm rounds that fellow members examined and photographed. Whoever tossed the firearm in the water apparently didn't realize — or care that placing it in such a bag would help preserve evidence and slow the process of corrosion, making it easier to read the serial number and trace the firearm, explained Capt. William H. Hack Sr., commander of the all-volunteer dive team, which he started in 1959.
Also part of the team is Kailer's father, Ben, who's second in command.
It wasn't long after that find that the younger Kailer removed from the chilly water a larger firearm thought to have a 30-round magazine and a laser scope. The weapon's next stop likely will be the Bureau of Criminal Identification and Investigation, Hack said.
"He was ready for action with this one," Rob Hovanec, an 11-year-member, said from the bridge before photographing the second firearm that had at least 13 bullets.
Hack's sheriff's department vehicle contains artifacts recovered in previous dives, such as an AK-47 assault rifle, a Japanese 7-mm rifle used during World War II, a Ruger 9 mm pistol and a safe that had been forced open. Next to those are a series of macabre photograph boards that show stolen jewelry, vehicles being extracted from the water and a rusted safe.
Team members don't wonder if their strenuous forays will turn up discarded items that likely had been used for nefarious purposes. It's usually a question of what will be found, they say.
"If it's in the water, it was up to no good," explained Hack, adding that his team also has scoured Girard Lake and the Mahoning River as well as Berlin and Meander reservoirs. "Ninety-nine chances out of 100, it was stolen."
In addition to the two guns, Sunday's dive uncovered a musical mixing console with two built-in compact-disc players commonly used by disc jockeys, as well as a crowbar. The piece of musical equipment was badly corroded with no apparent serial number and was worth between $200 and $400, one team member estimated.
When items are removed from McKelvey Lake and other bodies of water, someone has to write a report and determine whether they have evidentiary value. That's where 15-year team member Frederick E. White comes in.
An integral part of the process is collaboration with fellow police departments. For example, a recent find turned up a firearm that contained bullets that had been used in a Liberty Township homicide, White noted.
The team almost always keeps what it finds, in part because it could be valuable later, he continued.
Divers have an often arduous, difficult job, but making things easier for them is what Hack calls the "shore team," comprised of members who carry equipment, operate boats, offer aid and help divers with their wet and dry suits, face masks, oxygen tanks and other heavy equipment.
Among those are Rob Hovanec's wife, Sue, and their son, Robbie, both of whom also have been members for more than a decade.
Hovanec also takes pride in helping the team extract what's found in the water as well as assisting divers wearing heavy gear out of the water.
Occasionally, however, the heaviest responsibilities come from situations that require the most delicacy, such as when she had to console the family of a boy who had drowned in Lake Milton.
"It brings closure to the family, and it's good to feel you're helping someone in the community," Hovanec said.
The dive team operates year-round, even when that means cutting holes in ice. When they're not performing such risky business, members are often working as lawyers, teachers, doctors and sheriff's deputies. Sue Hovanec also is a special-education paraprofessional and a caterer.
Prospective divers must undergo training courses and take basic dive and scuba lessons, noted Hack, adding that the Youngstown State University swimming pool is used during the winter. Then they are on a six-month trial period, in part to see if they can handle the physical rigors.
More like this from vindy.com