Top teams prove their mettle in Week 2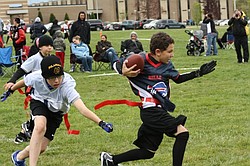 Photo
Neighbors | Submitted.Canfield's Chris Makara (right) avoids a tackler during Week 2 action of the Youngstown Youth Flag Football Association last Sunday.
Teams battled colder weather in Week 2 of the Youngstown Youth Flag Football Association, but still came out on top during games last Sunday at Boardman High School.
In the 5 and 6-year-old division, the game between the Chicago Bears and Dallas Cowboys went down to the wire. Trailing 35-34, the Bears decided to go for a game-winning two-point conversion. But the Dallas defense made the stop to secure the one-point victory.
In other action, the Baltimore Ravens have started the season 2-0 start and will face fellow undefeated Miami Dolphins this Sunday.
In the 7-8 division, the Minnesota Vikings seem to be the most complete team so far. In their Week 3 match-up, they'll face the Green Bay Packers. In the AFC, the Pittsburgh Steelers battled back from a Week 1 loss to take down the Kansas City Chiefs to even its record at 1-1.
In the 9-11 division, the Minnesota Vikings from East Palestine are back for their fourth spring season in the YYFFA and they're better than ever. Coached by Zach Sherry, the squad is leading the most competitive division with a 2-0 record. This week they face the Houston Texans from the AFC.
In the 12-14 division, the girls team that competed in nationals in Florida a few months ago has had to reload with new girls. But the competitive spirit is still there. After giving up a late touchdown in the game against the 49ers, the Redskins drove the length of the field and scored with 30 seconds remaining to secure their first win of the season.