Youngstown students release book on seniors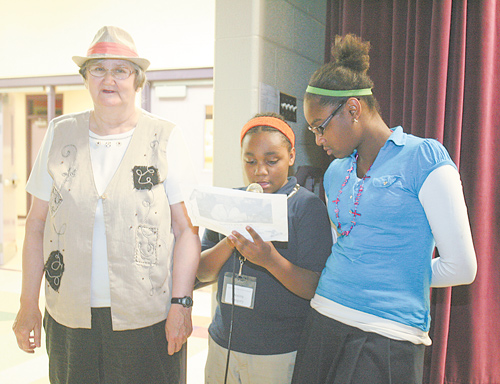 Photo
Destiny Gregory, 10, center, and her classmate, Erica Carlisle, 12, read about Mary Leyman, left, a resident of the Goodwill Apartments and their literacy buddy during a book-release event at Taft Elementary School. Taft and Williamson Elementary schools students in the Youngstown Super STARS Afterschool program compiled information during interviews with senior citizens to create a book about the seniors' lives.
By Denise Dick
Youngstown
J.K. Rowling and Suzanne Collins have nothing on Lequanna Jones, Antione Whitfield and their classmates in the Youngstown Super STARS Afterschool program.
Third- through fifth- graders at Taft and Williamson Elementary schools enrolled in the program released their book, "Youngstown Super STARS Literacy Buddies: Our Community Seniors" at Taft on Thursday.
But though Rowling's "Harry Potter" and Collins' "Hunger Games" series are fictional, the Super STARS penned a nonfiction work.
Taft students interviewed residents of Goodwill Apartments while those from Williamson interviewed Calvary Towers residents. They learned about their upbringing, favorite books and foods and about history.
Taft fourth-grader Lequanna, 11, interviewed Ruby Gibbs, a Goodwill resident.
"I learned about the civil-rights movement and that God made us all equal," Lequanna said.
She was honored for reading 17 books, the most of the Taft students in the program, and for achieving perfect attendance.
Williamson fifth-grader Antione, 11, interviewed Calvary Towers resident Edith Jackson for the book and says she's a nice person.
"She loved jumping rope and running tires in the street," Antione said.
The students and residents read books together and discussed topics ranging from personal responsibility and perseverance to racism and the value of education.
"This is so valuable — children and seniors spending time together," said April Alexander, project director of Youngstown Super STARS. "We're so grateful to the residents of Calvary Towers and Goodwill Apartments for allowing us to come and spend time with them."
She said the project helped with students' vocabulary and sentence structure as well as teaching them social skills.
The literacy buddy project was funded by Victory Christian Center in Coitsville, which provided more than $2,000 for transportation, refreshments and supplies.
The after-school programs at Taft and Williamson serve as Ohio Department of Education 21st Century Community Learning Centers and are a collaboration of the Neil Kennedy Recovery Clinic, Youngstown, the city school district and the Youngstown Afterschool Alliance.