Steelers excited to get DeCastro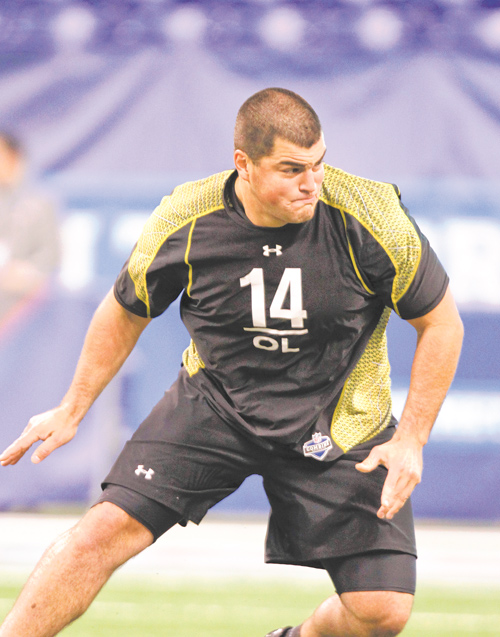 Photo
Stanford offensive lineman David DeCastro runs a drill at the NFL scouting combine in Indianapolis. DeCastro was selected as the 24th overall pick by the Pittsburgh Steelers in the first round of the draft on Thursday.
Associated Press
PITTSBURGH
The Pittsburgh Steelers didn't expect David DeCastro to be available with the 24th overall pick in the NFL draft, to the point where they'd practically written off the burly All-American guard from Stanford.
Yet as Roger Goodell continued to rattle off names and DeCastro's wasn't called, general manager Kevin Colbert started to get optimistic.
"We really we didn't think David would be there at 24 quite honestly," Colbert said. "We valued him that high. We said there were a few special players in this draft, and he was one of them."
The Steelers didn't necessarily plan to bolster their offensive line in the first round, yet the chance to grab DeCastro was an opportunity simply too good to pass up.
"This kid's an exceptional player," Colbert said. "This kid is all business and no-nonsense."
Which means DeCastro should fit right in on a blue-collar offensive line that could use a dose of nastiness. Pittsburgh allowed 42 sacks last season and quarterback Ben Roethlisberger was never the same after injuring his ankle while getting drilled by a pair of Cleveland defenders in December.
Keeping Roethlisberger upright and healthy are the two biggest keys for a franchise where Super Bowl titles are the only thing that matters. DeCastro should help Roethlisberger be both.
The 6-foot-5, 316-pound DeCastro started 39 games in three seasons with the Cardinal and was an All-American after his junior season last fall while blocking for quarterback Andrew Luck.
Colbert said the pro-style offense Stanford runs should help DeCastro make a quick transition to the NFL. Though he was a solid pass protector — not giving up a sack or a pressure as a junior — the Steelers think DeCastro is even more effective paving the way for running backs.
"When you watch this team [Stanford] run the football 80 percent of the time David DeCastro was leading the way," coach Mike Tomlin said.
Though DeCastro played exclusively right guard, Tomlin believes DeCastro can swing between either guard spot. He will compete with veterans Ramon Foster, Doug Legursky and Trai Essex for a starting job after the team released veteran Chris Kemoeatu as part of a salary purge.
DeCastro is the second offensive lineman drafted in the first round by the Steelers in the last three years. They took center Maurkice Pouncey in the 2010 draft.
Though he was rated among the top 15 picks by most experts, DeCastro says he began the night with no expectations. He doesn't consider his slide to 24th a shot to his ego but an opportunity to join an elite team, even if it's one the Seahawks fan from Bellevue, Wash., used to root against.
"I wasn't the biggest Steelers fan growing up after they beat us in [the 2006] Super Bowl," DeCastro said. "Now I'm the biggest Steeler fan there is."
The feeling appears to be mutual.
"He was the unquestioned leader of a very veteran group," Tomlin said. "We're excited about putting him in the fold."
Pittsburgh has nine more picks over the next two days.