Rose-less Bulls overwhelm Cavaliers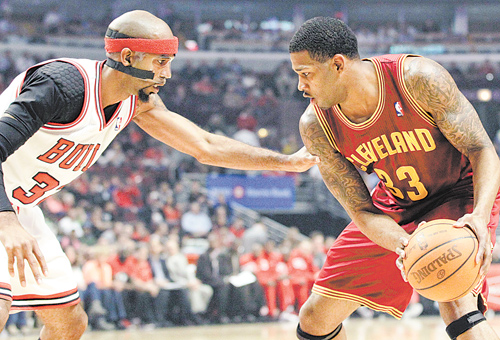 Photo
Chicago Bulls guard Richard Hamilton (32) guards Cleveland Cavaliers forward Alonzo Gee (33) during the fi rst half of Thursday's NBA game in Chicago. The Cavs fell 107-75.
Associated Press
Chicago
Despite playing a major portion of the season without the reigning MVP, the Chicago Bulls still escaped the regular season unscathed.
John Lucas III scored a career-high 25 points, Joakim Noah had 13 points and 13 rebounds, and the Bulls clinched the top overall seed in the NBA playoffs with a 107-75 victory over the Cleveland Cavaliers on Thursday night.
Tristan Thompson scored 13 points for the Cavaliers, who lost four straight games to end the season, their second straight last-place finish in the Central Division.
Kyrie Irving, who had a late-season sprained right shoulder and is recovering from the flu, did not play.
"Well, the season is over. Now we can get down to real business [evaluating]. I feel like we're in a great position with a lot of flexibility," Cavaliers coach Byron Scott said.
Derrick Rose sat for the 27th time in 66 games this season. He has missed games with a bad back, sore groin, sprained ankle and the latest a foot injury, but Bulls coach Tom Thibodeau said Rose will be ready for the playoffs and he is encouraged how Hamilton has played after returning from a shoulder injury.
"I think Derrick has been better than he has in a while and Rip (Hamilton) has gotten his legs under him," said Thibodeau.
Antawn Jamison, who will become a free agent, scored 12 points in what likely will be his final game for Cleveland. The Cavs finished the season with a 21-45 record compared to last season's 19-63 record.
It's been a tough year," said Jamison. "After last year, we couldn't do anything but get better."