Poland United Methodist egg hunt serves community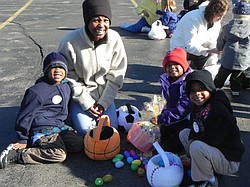 Photo
Neighbors | Sarah Foor .For LaToya Mays and her children, collecting treats post-Egg hunt was a fun family activity. Sorting through their goods were Jarell Smith (left), Mays, Mariah-Kelis Mauldin, and Donte Mauldin.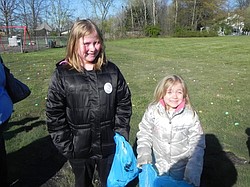 Photo
Neighbors | Sarah Foor .Sisters Ciara (left) and Brooke Cunningham looked excited for Poland United Methodist Church's April 7 egg hunt to begin.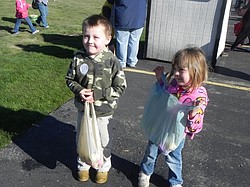 Photo
Neighbors | Sarah Foor .Michael (left) and Natalie Shaffer showed off their collection of candy-filled Easter eggs on April 7.
By SARAH FOOR
Poland United Methodist Church's annual egg hunt entertained and excited community members on April 7. The event, which was strictly a congregational activity for many years, became open to the community about five years ago.
Egg hunt organizer Kitty Matteson said church members volunteered many hours of hard work to prepare for the barrage of Easter guests.
"We've spent the last few days filling about 5,500 eggs for today's event. The candy and prizes inside have come from many wonderful donations from our church and congregation. It's a wonderful outreach to the community that we all really enjoy," said Matteson.
Guests posed for photos with the Easter bunny, who gave out hugs and free cookies to each child he met.
Eager hunters lined the parking lot of the church before an air horn signaled a go-ahead to hunt.
Laura Cunningham watched as her daughters, Brooke and Ciara, collected eggs.
"We go to church here, but this is actually the first time we've been able to attend. I think the girls are having a lot of fun with it," she said.
Lisa Krull was amused at her son Gage's enthusiasm as he amassed an impressive egg batch.
"Of course, when I suggested it, he said he didn't want to go. Now that he's here, he's the best collector out there," she said with a laugh.
Many guests plopped down on the church pavement to remove all their candy from the plastic eggs. Easter prize baskets were awarded to hunters who found special tickets.
Matteson said she was simply happy that the weather was enjoyable for her guests.
"We've held the egg hunt rain or shine, even in snow once. The eggs were a little too hard to find that particular year, so we thank God for weather like this," she said.