Patriot hearing will continue next month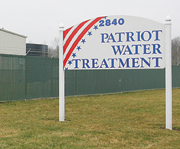 ---
YOUNGSTOWN
Patriot Water Treatment will fight a little longer for its survival after not being able to conclude its case this week in front of the Ohio Environmental Review Appeals Commission in Columbus.
Patriot, a Trumbull County facility designed to treat the lower-salt-content water generated from the fracking process, was not able to get through all its witnesses this week, said Linda Adams, office assistant for the ERAC.
Fracking is a process in which water, chemicals and sand are blasted into rocks thousands of feet below the ground to unlock natural gas and oil.
"At some point next month, they [review commission] will continue the hearing," she said.
It probably will restart in two to three weeks, Adams said. Patriot spent three days pleading its case before the ERAC board; the hearings began Tuesday and recessed about 4:30 p.m. Thursday.
The case moved to the commission after Judge Andrew Logan of Trumbull County Common Pleas Court decided March 30 to grant the Ohio EPA's request for dismissal in its case against Patriot.
The EPA issued a ruling in March that prevented Warren from accepting any brine wastewater. The water treated by Patriot was discharged to Warren's treatment facility.
There are no rules that regulate when a decision must be made by the commission. It may be several weeks before a ruling is rendered after the case is concluded, Adams said.
Mike Settles, spokesman for the Ohio EPA in Northeast Ohio, said the EPA would not comment on the case until a final decision has been rendered.
Andrew Blockman, president of Patriot, could not be reached to comment.
Patriot Water Treatment planned to treat low-total dissolved solids and not the brine water. Both are types of water generated by the fracking process. Low-total-dissolved solids have a lower salt content. The company does not intend to handle the high-salt-content brine.