North students celebrate Earth Day

Photo
Neighbors | Sarah Foor .Kindergartners Maddox Newhouse (left), Jacob Jenkins, and Lucas Oslin showed off the bookmarks they colored during the Earth Day activities at North on April 20.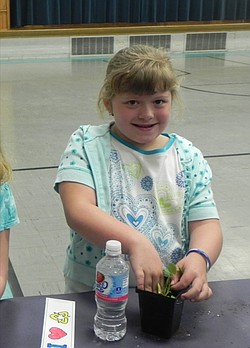 Photo
Neighbors | Sarah Foor .First-grader Kylie Ozenghar shared a smile as she planted a Mother's Day flower with the help of Boardman Kohl's officials on April 20.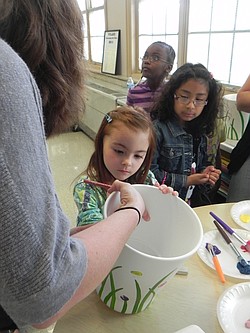 Photo
Neighbors | Sarah Foor .The students of North Elementary celebrated Earth Day early with fun activities on April 20. The school's PTO provided an art project where each student pressed one paint-covered thumb to a vase showing long blades of grass. After making her mark, kindergartner Natalie Patterson (left) added her name next to her thumbprint.
By SARAH FOOR
North Elementary students celebrated Earth Day on April 20 with some help from their PTO and officials from Kohl's of Boardman.
PTO volunteers helped students of each grade celebrate the "green" holiday with crafts and games in the school's art room. Students completed crosswords, bookmarks and coloring sheets, and then added their own mark on an art project. The PTO provided a white vase painted with blades of green grass. Each student had paint on their thumb, pressed to the vase, and their name written near their print.
Over in the school gym, the green thumb volunteers from Kohl's helped North students plant flower and vegetable seedlings.
Kohl's visit includes a $1,500 grant that the school invests into programs throughout the school. The event marks the third annual visit made to North from Kohl's employees. Boardman store administrative assistant Phyllis Manack has visited each time.
"After three years, it's great to see the continued excitement about the project. The kindergartners are eager to learn about being green and the older students are happy to see us back to visit them again. We always have a wonderful visit to North," said Manack.
With the Kohl's officials, each student planted a flower in a small pot to be taken home in May as a Mother's Day present. The students also planted green pepper and tomato seedlings in the bottom half of old plastic water bottles that North students have collected throughout the year. All plants head to the school's greenhouse to incubate until they're ready to take home in about a month.
North principal Tracy Kashak hears good news every year about how the plants thrive.
"After the nice long stay in our greenhouse, the plants do really well when the students take them home. Many North families thank Kohl's as they enjoy green peppers and tomatoes during the summertime," said Kashak.
More like this from vindy.com