Little: T-Rich can help a lot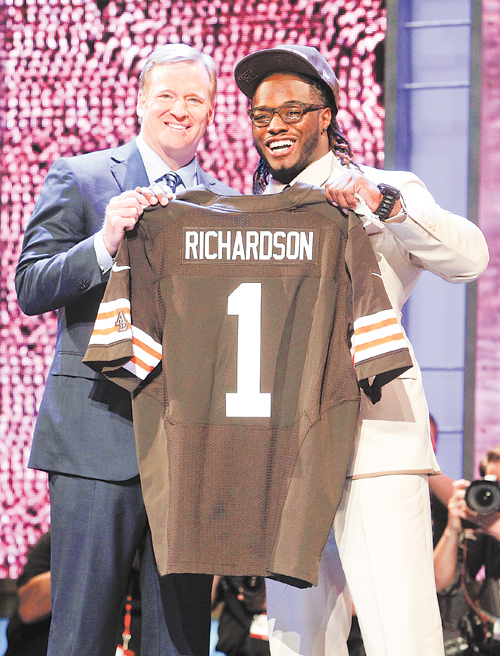 ---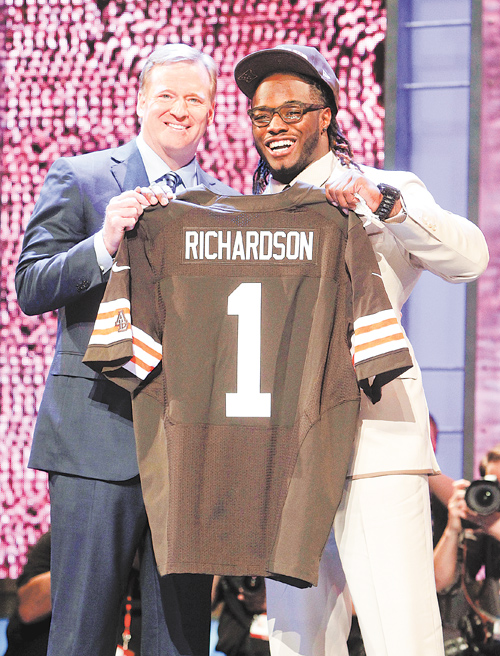 Photo
Alabama running back Trent Richardson poses with NFL Commissioner Roger Goodell after being selected as the third pick overall by the Cleveland Browns on Thursday in the first round of the 2012 NFL Draft at Radio City Music Hall in New York. About a half hour before the draft began Cleveland traded its fourth-, fifth- and seventh-round choices with Minnesota to move up from the No. 4 spot to No. 3 and secure Richardson.
By Joe Scalzo
AUSTINTOWN
As NFL Commissioner Roger Goodell was announcing Trent Richardson as the newest Cleveland Brown, wide receiver Greg Little briefly glanced up at the TV screen at O'Donold's Irish Pub, then glanced back down at his phone.
One year after being picked by the Browns in the second round, Little was enjoying a stress-free draft.
"You get to see the opposite side of it and you definitely get to relax this whole time," said Little, who had the second-most catches (61) and third-most yards (709) of any rookie NFL receiver last year. "It's more fun having that feeling of your dream being fulfilled — that only happens one time and to go through all the waiting game sucks — but when you actually get picked and go to a team, it's very fulfilling, man."
Little's outward nonchalance was due more to the lack of drama — the Browns traded up an hour earlier, so everyone knew Richardson was the choice — than his feelings about the No. 3 pick. (Alas, Little was gone by the time Cleveland's real drama began with the selection of Brandon Weeden.)
"I think he's a very good back," said Little. "He's a guy that can run the ball every down and he can catch. He'll be able to come into our offense and pick up what he needs to do and pick up blitzes and know it all.
"I think he's very capable of being a very good player in this league."
Little is also excited about having a full offseason after the lockout wiped out three months last summer.
"Last year everybody was saying, 'Well, they didn't have an offseason' and I would think, 'Who cares about that? We're playing now,'" Little said. "But now that I get to spend time with the coaches and ... watch game film of myself, I understand.
"You learn so much from that. It's going to help our team a lot from an offensive standpoint."
The Browns went 4-12 last season and were ranked 30th in points per game (13.6) and 29th in yards per game (288.8). But Little thinks the team is closer to contending than people think.
"I think with a few more pieces, we're right on the cusp," he said.