Hubbard library reaches out to dogs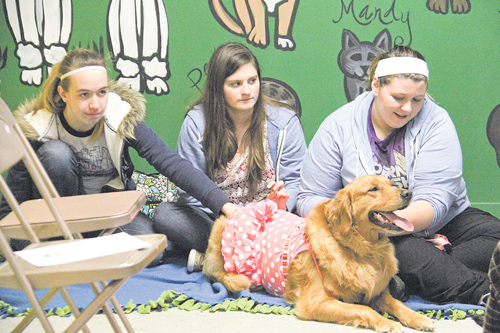 Photo
Mackenzie Kriss of Austintown, left, and Brianna Jukes and Courtney Kensinger, right, both of Hubbard, sit with Nova, a golden retriever, during "Storytime for Dogs" at The Learning Dog training center in Hubbard. The event is part of Hubbard Public Library's outreach and allows dogs in training to socialize with humans and other dogs.
Hubbard
The first time Nancy Grapevine and Mary Anne Russo hosted "Storytime for Dogs," they forgot their audience and used a tennis ball as a prop.
"All the dogs started barking," said Russo, a librarian with Grapevine at Hubbard Public Library.
At the library, the two of them host reading events for pre-kindergarten children, incorporating as many props as they can.
"It's just something I do to add to the fun," Russo said.
But inside the back classroom of The Learning Dog, a pet training center at 757 N. Main St., the audience was dogs.
On Thursday, the librarians hosted their second "Storytime for Dogs," one of many outreach programs sponsored by the library. It stems from "Paws for Reading," a program allowing children to read aloud to professionally trained therapy dogs, Russo explained.
But the program excluded family pets, which are not allowed inside the library.
Hoping to incorporate them, Russo worked with the owner of The Learning Dog to develop "Storytime for Dogs" and had its first reading in January.
"The first time I did this, I said to myself, 'It may just be chaos, but oh, well,'" Russo said.
It allows dogs in behavioral training to socialize both with humans and other dogs.
At each session, Grapevine and Russo sit up front and read over the sporadic dog barks and children yelling out their prediction to a book's ending.
Like the dogs in the books they read, each dog in the audience has a story of its own.
Macy, an energetic 1-year-old Wheaten terrier, had to be given up by her original owners, said her current owner, Marilee Pilkington.
"They were just too busy," Pilkington said, adding that they still visit Macy.
Then there's Cooper, a black Labrador/pit bull mix who was discovered in the middle of a Pennsylvania woods by Tami Pearce, his owner.
His mother, Gretta, was dumped in Amish country while pregnant with Cooper and his two brothers. She gave birth and raised them for three weeks in the wild until being taken by the local dog warden. The next day, Pearce, who noticed Gretta in the same place along a rural mail-delivery route, returned to that place.
"She pulled me 10 minutes into the woods and led me to her three puppies," Pearce said. "I just started bawling. It was a very touching moment."
She kept Gretta and Cooper and adopted out the two brothers.
Near the end of a story Wednesday, Grapevine surprised the dogs with another prop she hoped would have the same effect as the tennis ball.
She pulled from a shoe box a rubber snake and tossed it to the classroom's concrete floor.
The dogs, this time, were not amused, but the children were.