Library guests go fly a kite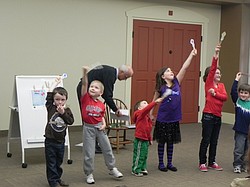 Photo
Neighbors | Sarah Foor .For a kite activity time on April 12, a group of guests to the Boardman library were asked to stretch and have their "kites," or a kite photo glued onto a popsicle stick, fly high in the air.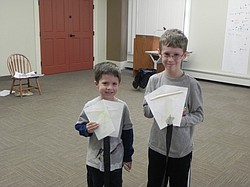 Photo
Neighbors | Sarah Foor .Brothers Alex Wolfgang (left) and Jacob Gibson showed off the kites they made at the Boardman library's April 12 Kite activity time.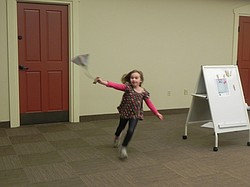 Photo
Neighbors | Sarah Foor .Some guests at the April 12 Boardman library kite activity time went outside to test out their kites, but for Autumn Farrell (center), running quickly around the library activity room garnered enough air for her kite to float.
By SARAH FOOR
To celebrate National Kite Month, local children were invited to the Boardman library on April 12 to go fly a kite.
Boardman librarian John Yingling began the event with a story, in which a strong kite line pulls away half of the neighborhood. Yingling shared a small history lesson, telling guests that kites were first found in China more than 2,000 years ago.
Although the earth's gravity keeps people from floating away like a kite, Yingling and fellow librarian Ashley Bentfeld asked guests to take flight for an art project. Each child dotted their index finger with blue paint and hopped to make a mark on a blank canvas. Bentfeld wrote each child's name next to their blue dot, creating a personalized piece of art for all of the kids to enjoy.
After the blue paint was cleaned off little fingers, the librarians taught guests how to make simple kites with a piece of computer paper, a straw, tape and a kite string.
Kimberly Wolfgang helped fashion two kites for her children, Jacob and Alex.
"We've flown kites before, but only with my oldest, Alex. It makes for a fun family day, so I think we'll be trying out our new kites soon," said Wolfgang.
"I'll help my brother learn how to fly his kite if we go out all together," promised Alex.
Many guests decorated their piece of paper with crayon drawings before making the few folds to transform it into a kite and a tail was a available to tie onto each air dancer.
Some families went outside to try out their kites, while others were happy to circle the library activity room to catch some air.
Autumn Farrell giggled as her kite floated behind her in the library.
'It's my first time flying a kite. I'm going to the park today and I want to show it to my best friend while I'm there," she said about her new toy.