Published: Fri, April 27, 2012 @ 12:08 a.m.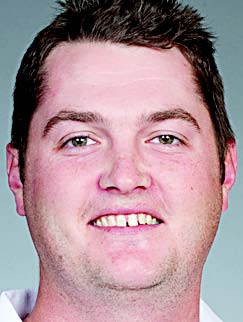 Photo
Staff/wire report
AVONDale, La.
Jason Kokrak rebounded from a poor start and played his final 14 holes in 3-under par, finishing 2-under 70 in the first round of the Zurich Classic of New Orleans.
Kokrak, the Warren JFK graduate in his first year on the PGA Tour, had one of his better putting days in weeks, putting him in a tie for 33rd place at the TPC Louisiana course.
His average of 1.786 putts per hole was still slightly above the field average but significantly better than his season statistics to date.
He also had a 77.78 percent accuracy in greens in regulation.
Kokrak, starting on No. 10, bogeyed his first and fourth (No. 13) holes, but birdied No. 11 and No. 18 to make the turn at even.
He then made birdies on Nos. 1 and 7.
On No. 18, a 585-yard par-5, Kokrak blasted his drive 326 yards, then got within 23 yards of the pin with his second shot. He had a short 3 1/2-foot putt for birdie.
Kokrak then made an 8-footer on 1 and a 4-footer on 7 for his final two birdies of the day.
Ken Duke and Cameron Tringale topped the leaderboard at 7-under 65, leaving defending champion Bubba Watson six strokes back in his first tournament since winning the Masters.
Tringale birdied the final four holes and finished the round with eight birdies and a bogey. Duke had seven birdies in a bogey-free round. Both players are winless on the PGA Tour.
Steve Stricker, Ernie Els, Daniel Chopra and Chris Stroud were a stroke back at 66. Ben Curtis, the Texas Open winner Sunday in San Antonio, was another shot behind along with John Rollins and Jason Dufner.
Watson, admitting to fatigue, had four birdies and three bogeys in his 71.Watson, playing the back nine first, was 2 over through the first seven holes. He birdied the par-5 18th and followed with three more birdies and a bogey on the front nine.
Second-ranked Luke Donald opened with a 73.
Tringale made the turn at 2 under and had a 5-under 31 on the back nine, highlighted by a 25-foot birdie putt on the par-4 15th and a 20-footer on the difficult par-3 17th.