Holy Family teacher earns Golden Apple Award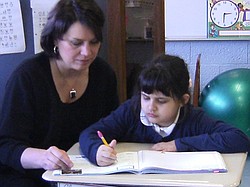 Photo
Neighbors | Nicole Paden.Maureen Kelty, who will be honored with a Golden Apple Award, assists a student with her work during a recent school day at Holy Family.
By NICOLE PADEN
Poland's Maureen Kelty will receive the Golden Apple Award for excellence in teaching from the Youngstown Diocese.
at a banquet ceremony at the Youngstown Country Club on May 17.
"I am humbled, excited and honored to receive such an award because people took the time to write a letter to nominate me," said Kelty.
This isn't the first time Kelty has been noted for her teaching. In 2007, she won Hot 101's Teacher of the Week award and in 2009 she was honored through WFMJ's Class Act program.
Kelty attended Holy Family as a student and says she has a personal connection with the school. She attended Cardinal Mooney and then Youngstown State to earn her teaching degree.
Her son, Jim, is a student at Youngstown State, and her daughter, Eileen, attends Cardinal Mooney. Both previously attended Holy Family.
Kelty has taught at Holy Family for 21 years and is teaching second grade this year. Her students are currently doing a passport project where they travel from country to country making souvenirs.
She made the decision to teach at Holy Family because she enjoyed her experience as a child and likes the faith formation experience.