Green Team marks Earth Day at Dobbins

Photo
Neighbors | Submitted.Dobbins fourth-grader Sara Bushaw (center) participated in the recycling relay during the Green Team's visit on April 18.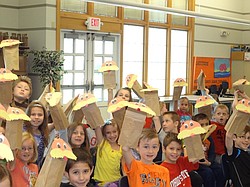 Photo
Neighbors | Submitted.After a reading of "The Lorax" with Green Team educator Peg Flynn on April 18, Dobbins first-graders created paper-bag Lorax puppets and showed them off with smiles.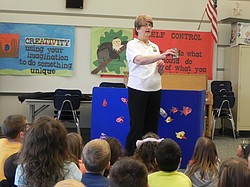 Photo
Neighbors | Sarah Foor .During a presentation with Dobbins kindergartners, the Green Team's Peg Flynn discussed how to dispose of, recycle, or reuse common materials.
By SARAH FOOR
The Green Team's Peg Flynn made a stop at Dobbins Elementary on April 18 to celebrate Earth Day with the students a few days early.
Flynn offered Earth Day activities for each grade throughout the morning. With warmer weather in the air, Flynn urged a group of kindergartners to think about littering they may see in familiar places.
"In spring, you'll probably want to go outside for picnics or go out on the lake and enjoy the water. When you see littering in those places, it can definitely hurt the wildlife there," said the environmental educator.
With the kindergartners, Flynn shared a puppet show called "Turtle's Mishap." Turtle had to search the lake high and low to find a friend that would help him escape from a six-pack plastic ring. After the show, Flynn taught the students to recycle, reuse or dispose of common litter at a park or lake.
Throughout the day, the educator made puppets for a reading of "The Lorax," played reduce-reuse-recycle bingo, discussed composting during a tree skit, and played a recycling relay where students were challenged to separate recyclables to their proper place.
As she met with each grade, Flynn asked the students to recycle and to find creative ways to repurpose already-used items.
"Most of the things you put in the trash can be used in a different way. You can repurpose things usefully, and others just for decoration. This year marks the 42nd anniversary of Earth Day. Keep that celebration in mind and try to make little changes for the better every day," Flynn said.