'Green Idol' singers go for the gold at Boardman Park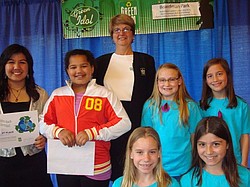 Photo
Neighbors | Submitted.The first place winners in each age group at the Green Idol singing competition celebrated with the Green Team's Peg Flynn (center back). The winners were, from left, Kristen Wolf of Boardman in the ninth to 12th grade division, Amya Franziskakas in the fifth to eighth grade division, and Hannah Manhardt, Anna Robinson, Sarah Varga (front) and Alyssa DiNapoli, all of Boardman, in the first to fourth grade division.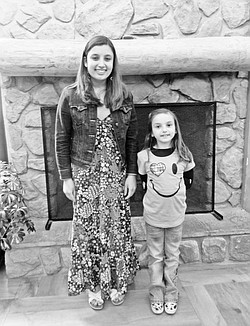 Photo
Neighbors | Sarah Foor .Austintown sisters Anna Marie Jadue (left) and Elizabeth Jadue participated in the Green Idol singing competition together on april 14. Anna Marie Jadue said that she and her sister sing together often, and wanted to participate in the event because of their family's passion for recycling and reusing.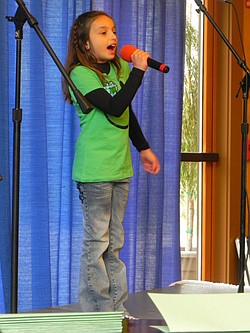 Photo
Neighbors | Sarah Foor .Elizabeth Jadue, from Austintown, was the youngest competitor at the Green Idol competition on April 14.
By SARAH FOOR
Talented and earth-friendly youth throughout Mahoning County visited Boardman Park on April 14 to compete in the Green Team's "Green Idol" singing competition.
The event was brought back after a two-year hiatus, just in time for two special anniversaries for the Green Team and environmentally-conscious individuals everywhere. This year marks the 42nd anniversary of Earth Day, as well as 30 years of recycling services in Mahoning County.
Environmental educator Peg Flynn organized the competition that included 16 acts, including youth from first to 12th grade, who were required to sing a earth-friendly song that could be an already famous tune or written by the contestant.
The singers included talent from Austintown, Boardman, Canfield and Poland. Austintown natives Elizabeth Jadue and Anna Marie Jadue competed, as well as Dominic DeRamo and Stephanie Brown from Canfield and Sammie Gurd and Julia Cooper from Poland. Boardman talent included Alyssa DiNapoli, Anna Robinson, Hannah Manhardt, Sarah Varga, Karliana Rudzik, Cassidy Smith, Kaylin Burkey, Kristen Wolf, Sharukh Khan and Kristian Mikul.
Many contestants wore outfits that carried messages of sustainable living, recycling and water conservation.
During her performance, Gurd changed the lyrics of Katy Perry's "One That Got Away" to urge guests to be green on more than just Earth Day.
Austintown sisters Elizabeth and Anna Marie Jadue both competed in the event, in the first through fourth grade and ninth through twelfth-grade divisions, respectively.
The duo said it enjoys singing together at home and wanted to compete to share the message of green living.
Flynn hopes Green Idol will become a yearly event.
Performers were scored by a panel of judges and glory went to DiNapoli, Robinson, Manhardt and Varga in the first through fourth grade division; Amya Franziskakis in fifth through 11th grade; and Wolf in ninth through 12th grade. In the fan favorite vote, the two younger acts also took the audience vote, while Annie Marie Jadue nabbed the fan prize from Wolf.