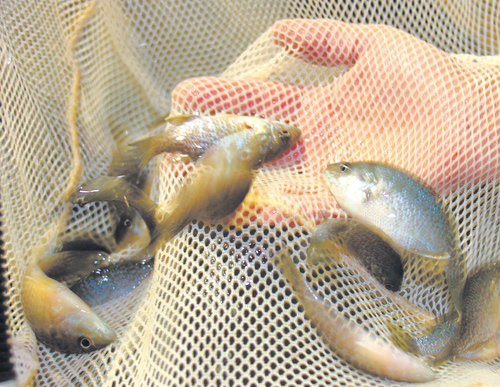 Photo
John Scherer, of Fender's Fish & Llama Farm, of Baltic, Ohio, scoops up fi sh for delivery to customers during a Thursday fish sale at the Canfi eld Fairgrounds, which was sponsored by the Mahoning Soil and Water Conservation District.
By PETER H. MILLIKEN
milliken@vindy.com
CANFIELD
A fish hatchery
came to the Canfield Fairgrounds,
where landowners hauled out a variety of fish to stock their ponds and lakes.
Thirty-one people picked up fish pre-ordered in the fish sale, sponsored by the
Mahoning Soil and Water Conservation District in Youngstown.
"We do it because it promotes natural resources. Fish are an excellent indicator of the health of a body of water," if they thrive in it, said Kathleen Vrable-Bryan, SWCD administrator.
The fish, which came from Fender's Fish & Llama Farm in Baltic, Ohio, were collected by the landowners in water-filled pails and trash cans lined with trash bags that could be tied shut.
Shielded from the rain, hatchery personnel swiftly transferred the fish from their tanker truck to customers' containers and aerated them inside a large exhibit building, with customers driving their vehicles in and out of the building through large open garage doors at either end.
A first-time customer, Becky Blazek, owner of Lakeside Golf Course in Lake Milton, bought white amur, a type of carp, to stock several ponds on the 18-hole course. Blazek said she bought the fish to eat algae on the ponds' surfaces and clean up the ponds.
The amur sold Thursday were between 9 and 12 inches long but eventually will grow to be up to 3 feet long.
Another first-time customer, Rob James of Berlin Center, said he was buying fish to stock his pond, where his grandchildren will be fishing. Five hundred minnows, 25 bass, 20 perch, 20 shell crackers, 25 hybrid bluegills and one white amur comprised his shopping list.
Al Yama of Berlin Center, who has bought fish in several SWCD sales, said he was buying mainly minnows to feed other fish in his quarter-acre pond. He said he was also buying shellcrackers and bluegills.
Yama said he has been satisfied with his previous purchases. "The minnows disappear, but all the other fish are in very good shape," he said.
"We bring the fish hatchery here, Fender's in this case, so that the residents have a shorter travel distance, and the survival rate of the fish is higher," Vrable-Bryan said.
There are no fish hatcheries in the Mahoning Valley, she said, adding that lengthy travel is undesirable because it can lead to excessive water-temperature change, which can be harmful to the fish.
"You don't want to leave them in a bucket for an hour or two hours," she said.
The district will also conduct a fall fish sale, with pickup at 2:30 p.m. Oct. 9 at the Canfield Fairgrounds and a late September ordering deadline.
SWCD conducts the spring sale to enable landowners to stock their ponds so they can enjoy the fish through the summer.
Fall is actually the better time to stock ponds and lakes, however, because fish become better acclimated to the water temperature in the fall, Vrable-Bryan said.
Vrable-Bryan said Fender's supplies fish to most Ohio SWCDs.
She said the Mahoning SWCD expects only to break even through sale revenues in covering its costs for arranging the sale.