COSI teaches Lloyd the wild side of science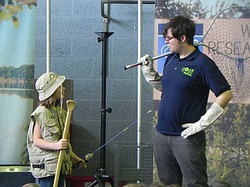 Photo
Neighbors | Sarah Foor .COSI representative Patrick Roach (right) taught Hannah Lobe (left) and her Lloyd classmates about proper fishing technique during his presentation on April 17.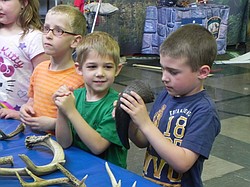 Photo
Neighbors | Sarah Foor .Kindergartners Gunner Maleszewski (left) and Jakob Wallace explored tusks and horns at a COSI activity area on April 17.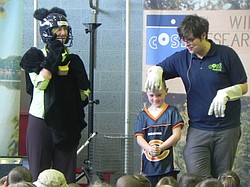 Photo
Neighbors | Sarah Foor .COSI educator Patrick Roach (right) taught the students of Lloyd about the tagging and tracking animals by the Ohio Division of Wildlife. The process helps the ODW make sure animal populations are healthy and safe. Teacher Amy Brungard (left) was chosen to play an Ohio bear with a tracking device, and Lloyd student Ian Teeters (center) helped Roach find the teacher after she found a hiding spot.
By SARAH FOOR sfoor@vindy.com
COSI on Wheels visited Lloyd Elementary April 17 in search of the students' wild side through its program on the wide world of Ohio wildlife and habitats.
Outreach educator Patrick Roach began the presentation by explaining the COSI Museum based in Columbus.
"We don't just want you to walk through COSI. We want you to break things and put them back together, and learn about science through activities," Roach explained.
The host brought the COSI mission to life through doing to his presentation titled "What's Wild?" Roach told the students that every animal needs food, water, shelter and a habitat to survive, and urged the kids not to disturb habitats by littering.
To prove his point, Lloyd student Gavin Batdorff transformed into a duck with the help of a duck hat, fabric wings, and flippers. Roach brought out a people-sized six-pack ring and showed how easy it was for Gavin the duck to get caught in the plastic.
"If you see a struggle, remember to never approach wildlife – that is dangerous. Call 800-Wildlife and the Ohio Division of Wildlife will come help the animal properly," Roach explained to the students.
With the help of Lloyd audience volunteers, the educator also explained how people can learn to hunt or fish responsibly, and how Ohio officials tag and track animals to make sure that they're safe.
PTA volunteers manned tables where students in each grade explored activities further and learned about Ohio habitats like fields, wetlands, forests, and lakes.
At the tables, the students had the opportunity to feel the pelts of native Ohio animals, look at insects under microscopes, explore antlers and horns, and learn proper boat safety and fishing techniques.