Church's Easter event about more than eggs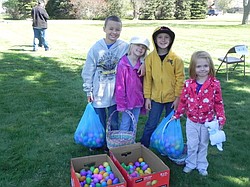 Photo
Neighbors | Sarah Foor .Noah Went (left), Ailey Went, Jonah Went, and Lennon Went showed off their impressive Easter egg haul at Boardman Christian Assembly's April 7 event.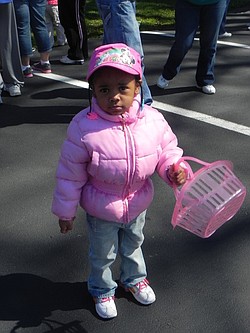 Photo
Neighbors | Sarah Foor .Dammaria Tubbs had a perfect pink Easter basket to collect treats at Boardman Christian Assembly's April 7 egg hunt.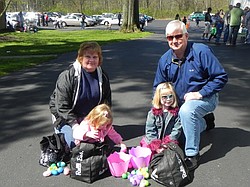 Photo
Neighbors | Sarah Foor .After the hunt was over, the second best part of Boardman Christian Assembly's April 7 egg hunt was finding all the treats. Canfield natives Karen Shuttleworth (left), grandkids Khloe Shodd and Kalleigh Shodd, and Bob Shuttleworth enjoyed the activity together.
By SARAH FOOR
During its fourth Easter Egg Hunt, the officials at Boardman Christian Assembly kept the reason for the Easter celebration in the forefront of the event.
Guests were welcomed in the church's sanctuary at the beginning of the April 7 event and Becky Hunt, the mother of church pastor Jerry Hunt, was given a chair at the stage where she invited all of the children present to gather. Hunt's head was topped with bunny ears.
"I know that sometimes as a little one, it's hard to be good all the time. You might want something you can't have, or be unkind to your brother or sister. But as we celebrate Easter, remember the miracle of Jesus' resurrection and remember that he is always with you," Hunt told the children.
The group then sang "Jesus Loves Me" together and Hunt signaled that it was time for the egg hunt.
As guests streamed outside, they found that the hunt was separated into age-appropriate areas. With a whistle, the kids began hunting. When finished, families collected their treats and enjoyed free hot dogs and drinks provided by the church.
Peggy Bezzaro, a church member who helped organize the hunt, said the event was made to make guests feel welcome in the congregation.
"We didn't want guests to simply pick up eggs and leave. We really tried to make a day of it, where they can enjoy a fun afternoon at the church," Bezzaro explained.
Bezzaro also said keeping the religious importance of the day was important to everyone at the church. "The children should know why we celebrate Easter, and hopefully, the candy is just a bonus," she added.