Canfield marching band visits Disney World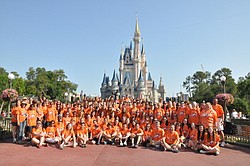 Photo
Neighbors | Submitted.The Canfield High School band, along with 26 chaperones and dozens of families, traveled to Orlando to perform at Walt Disney World two weeks ago.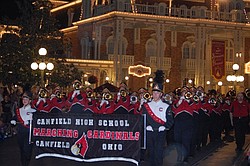 Photo
The Canfield marching band performed in a Disney World parade at the Magic Kingdom during its recent trip to Florida.
The Canfield Cardinal Pride Marching Band recently returned from a six-day trip to perform at Disney World in Orlando. The 165-member band was escorted by 26 chaperones and dozens of families traveled to Orlando to watch the band perform.
Students raised money for the trip over the years by selling ads in the annual Band Night program and participating in the fruit sale just before the holidays. Thanks to the community's terrific response to these fundraisers, the vast majority of the band members already had their trip paid for.
After a 20-hour bus ride, the students visited the parks for four days. Band members and family were easy to spot at the Magic Kingdom thanks to their orange tie-dye band shirts designed by senior Katie Fernstrom.
Later that evening, the band led off the Main Street Electrical Parade, stepping off to the Canfield Flight Song. As the band rounded the circle and headed up Main Street it broke into "Hang On Sloopy" to loud cheers and chants of O-H-I-O. The band then concluded the parade route with the patriotic classic from the 1940s, "This is My Country."
"It was the most incredible group of kids we've ever interacted with," said chaperone Terri Crogan.
"Not only were they well-behaved and respectful, but they were so much fun to be with — even on a 40-hour bus trip," added her husband, Tom.
Since their safe return, the band has switched back to concert mode in preparation for the OMEA state band competition in North Royalton. Both the Concert and Symphonic Bands will be competing against the top bands in the state. This marks the sixth year the Canfield Bands have competed at the state level.
The Concert and Symphonic bands next perform May 17 at 7 p.m. at Canfield High School.
The next chance to see the Marching Band will be at the Canfield Memorial Day celebration on the Green, followed by the Fourth of July parade.
Pictures and videos of the band can be seen on the band's Facebook page. Search for Canfield Bands or follow the links at www.canfieldbands.com.