Boardman students among those competing in Italian contest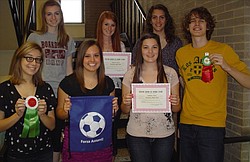 Photo
Neighbors | Submitted.Italian IV contest winners include (top to bottom, from left to right) Gina Eliser, Julianna Boerio, Tara Amero, Kelsey White, Alexis Burns and Stephanie Davis.

Photo
Neighbors | Submitted.Italian I and II contest winners include (top to bottom, from left to right) Rachael Eliser, Jenna DeLaurentis, Raul Bosca, Maria LaRocca.Thomas Sodeman, Rachael Davis, Taylor Binda, Stephanie DeMain.Nick Kubala, Nicholas Chicone and Nicholas Ciapala.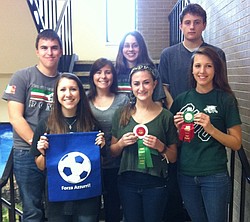 Photo
Neighbors | Submitted.Italian III contest winners include( top to bottom, left to right) Matthew Carubia, Christina Slavens, Michael Homsey, Angelina Gresko Nicole Pilolli, Nicole Deley and Carolyn Zaitzew.
More than 200 high school and elementary students studying Italian participated in the 36th annual Italian Language Contest March 12 at Youngstown State University. Each student was required to recite an Italian poem from memory and the high school students had to read a passage in Italian.
Students came from Boardman High School, Canfield High School, Howland High School, Lowellville High School, New Castle High School and Middle School, Niles High School, Poland High School, Holy Family Elementary in Poland, St. Christine's Elementary in Youngstown, Villa Maria Teresa School in Hubbard, and Holy Redeemer School in Elwood City, PA.
Event coordinators were Mary Ann Keifer and Maddalena Amero, Italian teachers at Boardman, and Anthony M. DiTommaso.
The event was sponsored by the Greater Youngstown Chapter of the American Association of Teachers of Italian.
The major benefactors were the Italian Education Foundation and the Youngstown Italian Festival. Sponsors included the Wolves Club of Youngstown, Den No. 6, Pomini, Inc. and the NOI Foundation, a subsidiary of the Italian Consulate.
The Warren Italian Festival Committee, Rulli Brothers and The Edward J. DeBartolo Corp. were contributors.
Donors included Peter Rossi and Sons Memorial Chapel, OSIA Lodge No. 2539, OSIA Loggia Roma Intangibile, Wolves Club of Trumbull County, Den No. 22, Florence Schneider, in memory of Teresa Martone, and the University of Pittsburgh Department of French and Italian.