St. Dom's breaks ground for $1.3M parish center
By Ashley Luthern
aluthern@vindy.com
YOUNGSTOWN
St. Dominic Ground Breaking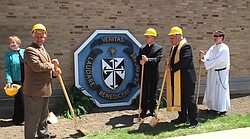 Video
Ground was broken today for a new parish center at St. Dominic Church in Youngstown.
With the turn of a shovel, St. Dominic Church dug its roots even deeper into the city's South Side.
The church at 77 Lucius Ave. had a groundbreaking and blessing ceremony Wednesday led by Bishop George V. Murry of the Diocese of Youngstown for a new $1.3 million 4,000-square-foot parish center.
"The social hall and commercial kitchen will bring good activity into the neighborhood and build community," said the Rev. Greg Maturi of St. Dominic Church.
The parish center is funded by donations and will be built on a large portion of the church's existing parking lot, which is on the west side of the church.
The church already has collected much of the $1.3 million needed for the construction, but still will seek donations for kitchen supplies and other items.
Across the street from St. Dominic, the church purchased the lot on the northwest corner of the Lucius Avenue and Southern Boulevard intersection, once the site of a plumbing company. It demolished a vacant building there and will pave it for additional parking spaces.
The parish center is expected to be completed in March. Father Maturi said a local contractor for the project will be chosen in coming weeks.
Longtime parishioner Joan Ruffing of Boardman said St. Dominic has needed a center like this for years.
"This parish needs this. It will be used to meet for social reasons, and we needed a place for children, for Sunday school, [Confraternity of Christian
Doctrine] classes and bereavement dinners," Ruffing said.
But throughout Wednesday's ceremony, it was stressed that the center not only will serve the parish but also the neighborhood.
Father Maturi said the center is part of Operation Redemption, an initiative to revive the neighborhood by demolishing vacant houses and greening out vacant lots, some to be used for youth sports.
Operation Redemption began after a string of violent crime in the neighborhood that claimed two parishioners as homicide victims.
Youngstown Mayor Charles Sammarone praised the parish center project and Father Maturi's leadership.
"He won't take 'no' for an answer, not even 'maybe.' You need people like this throughout the city, and we do have them. Once this is built, the community has got to support it," Sammarone said.
Victoria Allen, a South Side resident and block-watch leader, didn't stop smiling throughout the ceremony.
"I'm so excited. It's a place we can go, right here in our neighborhood. I'm super excited," she said.
When the ceremony ended and observers walked to their cars, Father Maturi was asked what the South Side neighborhood will look like in 25 years.
"I see it has been revitalized. ... I see parents bringing kids to school and residents walking the streets freely," he answered.