Penn National ponies up $4.6M for Valley site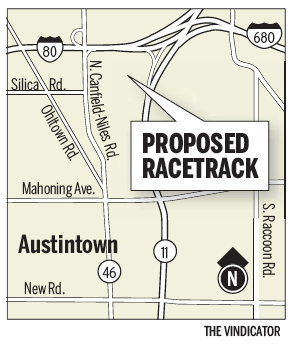 ---
By Elise Franco
Austintown
Penn National Gaming Inc. has paid more than $4.6 million for the Austintown Township property where it plans to build a thoroughbred racetrack.
Bob Tenenbaum, spokesman for Penn National, confirmed that the purchase of the 186-acre property at Center Pointe Business Park was finalized April 20. Tenenbaum said Penn National has had an option on the property since early 2011 when it announced an intent to relocate the Beulah Park track from Columbus to Austintown.
"It seems like an appropriate time to do it from a business standpoint," he said. "Nothing dramatic has changed in terms of the state issues that need worked out, but I think it does demonstrate to people that we're absolutely serious about this project."
The Center Pointe property was purchased for $4,651,652, according to the property-conveyance form from the Mahoning County Auditor's Office.
The company announced in March that a nonbinding memorandum of understanding with the governor's office outlined the relocation of Raceway Park, as well as Beulah Park in Columbus.
In that agreement, which must be finalized by the Ohio Racing Commission, Penn National intends to spend about $200 million on the relocation projects, plus $100 million in licensing fees. The agreement includes an additional $75 million relocation fee per track.
Penn National would have to pay the state 33.5 percent of the revenue generated from video lottery terminals.
The area's state legislators also are working to win approval for a bill that would allow video lottery terminals to be placed at the racetracks. The bill is in the Senate awaiting a vote.
Tenenbaum said he doesn't foresee hurdles in getting the memorandum with the governor's office finalized or the bill approved.
Austintown Township Trustee David Ditzler said the purchase is an indication that Penn National is confident the issues will be resolved.
"Penn National must feel they're going to be able to overcome all the obstacles that remain to complete the process to initiate the racetrack," he said. "It looks like they're confident those issues won't be show-stoppers."
Tenenbaum said the biggest challenge Penn National will face in getting the track built comes from a lawsuit filed by the American Policy Roundtable, a conservative organization that contends the governor and state lawmakers have exceeded their constitutional authority in permitting video lottery terminals in the state's horse-racing tracks.
The roundtable wants Ohio voters to decide whether VLTs should be allowed at the tracks.
"What's next is obviously waiting to see the outcome of that lawsuit," Tenenbaum said. "The VLT program is obviously pending the outcome."
He said the track will take about 18 months to build, and Penn National plans to begin construction as soon as it is able.
More like this from vindy.com