City law director: Legal shake-up adds flexibility
Tweet
Published: Thu, April 26, 2012 @ 12:00 a.m.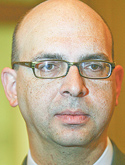 Photo
YOUNGSTOWN
A realignment of the city's law department and prosecutor's office will provide greater flexibility with attorneys able to handle both criminal and civil cases, Law Director Anthony Farris said.
The changes occurred after a shake-up in the prosecutor's office that led to the recent firings of Jay Macejko as prosecutor and Bret Hartup and John Marsh as assistant prosecutors.
Mayor Charles Sammarone promoted Dana Lantz from first-assistant law director/housing inspector to prosecutor April 5 after firing Macejko.
Hartup was fired a day later, and Marsh's last day was April 13.
The city's board of control is to consider legislation today to give Macejko a $15,350.19 severance package and Hartup a $12,821.20 severance package — for 35 percent of their unused sick days as well as unused vacation and other times. Marsh's severance package is forthcoming.
Since the firings, the city has used attorneys in the law department's civil division to handle criminal matters.
The city is making changes over the next five weeks to bring stability to its legal department.
Rebecca Gerson, a part-time first-assistant law director, will begin to work full time on the civil side starting next week. Her annual base-pay salary will increase from $33,888.19 for a 20-hour workweek to $66,040.52 for a full-time workweek.
Also, Kathy Thompson, another part-time first- assistant law director, will be a full-time assistant prosecutor starting May 7. Her annual base-pay salary will go from $33,888.19 for part-time work to $54,483.78 for the full-time job.
Both will receive full medical benefits from the city.
The city will hire Renee Lacivita, effective June 1, as an assistant prosecutor, earning $58,052.28 a year in base-pay salary with full medical benefits.
Though the law director is supposed to oversee the city prosecutor's office, the latter largely was autonomous the past several years, Farris said.
That's changing to allow those on the civil end to prosecute criminal cases and for assistant prosecutors to help with civil matters when needed, he said.
"Everybody needs to know how to do everything," Farris said. "It will make life simpler and more effective."
When the realignment is done, there will be four lawyers on the criminal side compared with five in the past.
On the civil side, there are two full-timers and three part-time workers. There will be three full-time lawyers and one part-timer under the realignment.
The civil side handles issues such as defending the city in lawsuits, preparing contracts, legislation and legal opinions as well as handling labor and workers compensation issues, Farris said.
Sammarone said he's pleased with the work Gerson and Thompson have done and they deserved to be hired on a full-time basis.
"They've earned their way up; they've been very effective," said the mayor, who added he believes the realignment will be effective.
If it isn't working, the city will re-evaluate, Sammarone and Farris said.
Sammarone fired Macejko and Hartup after an investigation into a controversial text message about President Barack Obama to Hartup that appeared to show it came from the former prosecutor. Macejko has denied sending or receiving the text.
Marsh's firing had nothing to do with the investigation, Farris has said.
All attorneys at the law department and prosecutor's office are at-will employees who can be fired by the mayor at any time. Shortly after Sammarone was appointed mayor in August 2011 and Farris appointed law director, most of the civil-side lawyers were fired.