Book by Chaney students unveiled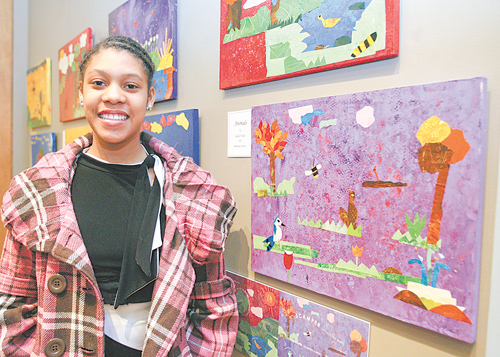 Photo
Chaney sixth-grader Beunita Jones stands by several images she helped create for the book "A Walk In the Garden" based on experiences of 40 students who spent time in Mill Creek Park.
By Elise Franco
Youngstown
Chaney sixth-graders waited excitedly to see the published version of a book they helped create.
The students participated in Project LEAF — Literacy, Environment, Art and Friendship — at Mill Creek MetroParks' Fellows Riverside Gardens.
Forty students at the Visual and Performing Arts and Science, Technology, Engineering and Math school toured the gardens last fall and used what they saw and heard to make the pages of "A Walk In the Garden" come to life.
Wednesday's book unveiling was the culmination of their work and collaboration with author Dar Hosta, said Keith Kaiser, MetroParks horticulture director.
"Dar led them through the process of putting the story to the pages," he said.
"None of the kids have seen the book until now."
The book is on sale at the gardens, and the students' original artwork used in the book is displayed in a gallery on the first floor of Fellows.
Beunita Jones, 12, said the experience was awesome.
"I really like reading, and I really like art, so it was really exciting," she said.
"In most schools, you never get to have the experience to make a book with a famous author."
Silas Elder, 12, said he enjoyed drawing pictures for the book.
Silas said he hadn't seen the finished product before the event but was sure it was great.
"Everybody had different ideas with different views of the garden," he said.
Hoster, who worked with the students during the creative process, said she's worked with students for many years and is never surprised by the talent they possess.
"This exceeded my expectations. ... I'm not surprised by it because they have the potential," she said. "What does surprise me is that they don't all get to do this kind of thing."
Kaiser said the collaboration was the result of the MetroParks' desire to connect with Youngstown City Schools.
"Three-fourths of these kids had never been to the gardens before," he said. "It's exciting for us to work with young people and give them something they can feel good about."
The project was funded by the Friends of Fellows Riverside Gardens, Mill Creek Park Foundation, the city schools and private donors. LEAF, a project Kaiser said the MetroParks plans to continue, will become self-sustaining through the book sale.