Mooney connection continues at NU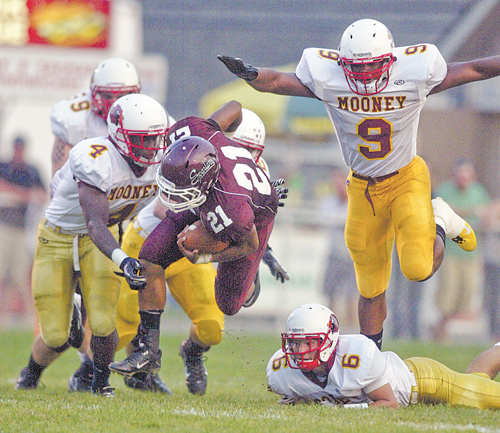 Photo
Boardman's Devin Campbell (21) eludes Cardinal Mooney defenders Marcus McWilson (4), Joe DeNiro (6) and Courtney Love (9) during Week 2 action in Boardman last season. On Sunday, Love committed to play for Nebraska.
YOUNGSTOWN
He always wanted to play football for Cardinal Mooney.
That dream came true for Courtney Love.
But he also had hoped to play for Ohio State, one day.
"Growing up in Ohio," Love said, "everybody wants to be a Buckeye."
Instead, he'll be a Cornhusker. On Sunday Love committed to play football at the University of Nebraska.
"This was the best decision for me," he said. "It's definitely an amazing opportunity to play at the highest level and I think I can prove myself to get some early playing time — and that was a big thing for me.
"Plus, I'll have a lot of people there supporting me — it's like a big family — and I fit in perfectly."
The four-star linebacker is joining current Cornhuskers, wide receiver Tim Marlowe, offensive lineman Mark Pelini and running back turned cornerback Braylon Heard — all graduates of Mooney. Not to mention graduate assistant Vince Marrow, offensive coordinator Tim Beck and head coach Bo Pelini — also former Cardinals.
"There's just so many connections there that make Nebraska a special place," Love said.
In February, Mooney defensive back Marcus McWilson committed to Nebraska further adding to the Youngstown-Lincoln pipeline. Love is looking forward to playing with McWilson for the next five years.
"Marcus is an unbelievable player and one of the best in Ohio," Love said. "He's a playmaker that leaves offenses scratching their heads because he's so fast and he can be flying around anywhere on the field. He's a great teammate and talked to me before about going to Nebraska, but in the end it was my decision."
Love entertained offers from Bowling Green, Indiana, Michigan State, Notre Dame, Oklahoma and West Virginia. Even Southern California, "but it's too far," Love said.
Ohio State offered, too, and he said that it was really down to the Buckeyes and Cornhuskers all along.
Love intended on being in Columbus last Saturday for the OSU Spring Game, but had already had his mind made up on Nebraska. He went out to Lincoln the weekend before for its spring game that was called due to the weather.
"Even with the game being canceled it gave me a better opportunity to spend time with the coaches," Love said. "That really sold me because I got to see the dedication they put into the program."
As a junior, Love led the Cardinals with 44 tackles, including 8.5 for a loss that cost opponents 46 yards. In Mooney's 21-14 Division III state championship win over Springfield Shawnee, he made seven tackles.
"We've been working hard all offseason to bring another state championship back to Mooney," Love said.
In scouting combines, Love has been clocked in the 40-yard dash at 4.6 seconds and 4.47 in the 20-yard shuffle. His vertical jump is 26.2 inches. Rivals.com lists him as the 29th best outside linebacker in the country.
Love will graduate early to enroll at Nebraska early, so he can participate in 2013 spring practices.