Published: Wed, April 25, 2012 @ 12:00 a.m.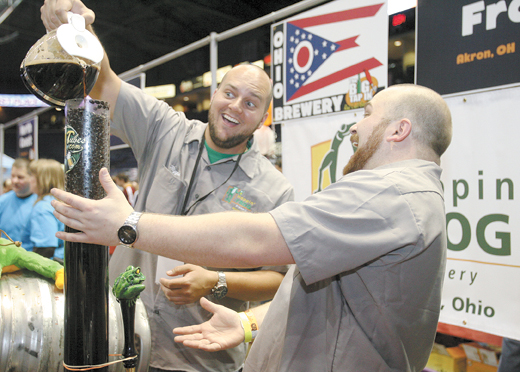 Photo
Bottlers Jeff Riggs and Dave Hoopes pour Italian roast coff ee into Hoppin' Frogs signature Silk Porter to distribute at the Big Tap In craft beer festival Saturday at Covelli Centre.
By Brian Fry
As part of my work in the beverage world, I have attended hundreds of beer and wine tastes over the last decade. There is no doubt in my mind that Saturday's Big Tap In at the Covelli Centre stands above the crowd as an incredible event for those who love craft and micro beer.
There were 271 different beers offered, and it's my job to bring you the highlights. I've broken them down into four categories: hop lovers, dark delights, fantastic fruits and VIP beers.
Hop Heaven
Fat Head's Brewing, Hard Headed IPA – This Cleveland-based brewery brings great bitterness and a hint of rye with a dry finish. Really tingles the palate.
Ohio Brewing Co., Twice Bitten IPA – Checking in at 8.1 percent ABV, this American IPA comes at you with some bite and delivers incredible hop flavors.
Lagunitas Hop Stoopid IPA – Yes, the spelling is silly, but the beer is incredible. These guys came all the way from California to attend the Big Tap In. Nice malt flavors, too. (pictured at left)
Founders Centennial IPA – A complex and diverse flavor profile that includes a little citrus fruit, malty richness and the big hop finish without any bitterness.
Dark Delights
Brooklyn Maple Porter – A robust and rich porter with maple syrup infused during conditioning. One of the smoothest and most easy-drinking beers at the event.
Anderson Valley Oatmeal Stout – One of the few beers offered in an aluminum can! Classic oatmeal flavor and a bold stout finish provide an excellent combination.
Bell's Java Stout – Bell's has their coffee beans specially roasted for them to make this beer. The flavor of the coffee really comes through all the way to the finish.
Abita Turbodog – This New Orleans brewery offers a rich and malty brown ale with a sweet chocolate-toffee finish. At 5.6 percent, ABV it is mild and mellow.
Fantastic Fruit
Angry Orchard Apple Ginger Cider – Nice to sip a little cider after trying so many beers. This one stood above the rest with its distinct ginger spice flavor mingling with the apple.
Rivertown Blueberry Lager – This Cleveland brewery really provides a mouthful of fruit flavor along with a traditional lager taste and aroma. Very refreshing and clean!
Ithaca Brewing Apricot Wheat – Easy-drinking wheat beer with just a hint of apricot on the finish. Ithaca emphasizes the quality of the wheat flavor with just a touch of fruit.
VIP Tasting
There were so many incredible and unique beers in the VIP section of the event that it is impossible to identify them all. These offerings stood out in my mind:
Stone Brewing Co. – They offered three different vintage years of their Russian Imperial Stout and a taste of their 10/10/10 Belgian Strong Ale. Really cool stuff!
Merchant Du Vin – This importer of some of Europe's most historical and sought-after craft beers poured their Rochefort Trappist Ales brewed by Belgian monks and the delicious Samuel Smith Strawberry Organic Ale.
Congratulations to Sandy and Phil Reda on an incredible event! I know many in attendance were already looking forward to next year.
Contact Brian at brian.fry@myvalley-vino.com or by visiting www.myvalley-vino.com.