AMVETS Post 44 opens new facility in Struthers
STRUTHERS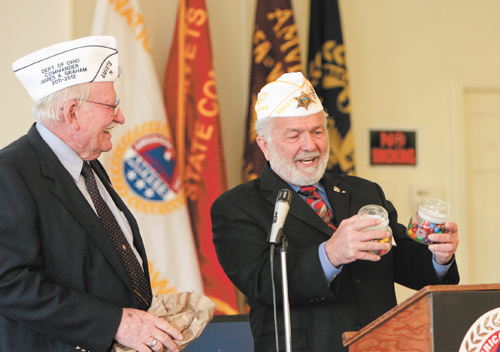 Photo
James Graham, AMVETS Department of Ohio commander, left, gives John "J.P." Brown III of Boardman, former state and natonal AMVETS commander, candy as an honorary gift for AMVETS Post 44, 305 Elm St., Struthers, which had a grand opening Wednesday.
AMVETS Post 44's new post home and career center are a vital resource for veterans and the community, said Ohio National Guard Sgt. 1st Class Teddy Kester, Post 44 commander.
A grand opening and ribbon cutting for the facility at 305 Elm St., which housed the former Struthers Baptist Tabernacle Church until it closed five years ago, was conducted Wednesday.
Among the speakers were AMVETS National 1st Vice Commander Cleve Geer of Florida and AMVETS Department of Ohio Commander Jim Graham. John P. "J.P." Brown III of Boardman, former AMVETS state and national commander, was master of ceremonies.
AMVETS Career Centers offer training and employment assistance for veterans and active service members, including the National Guard and reserves, for free. They can learn computer skills and also use the center to attend college online.
Their families also can use the center, but for a fee, said Kester, a full-time active-duty ONG recruiter and an instructor in Youngstown State University's Reserve Officer Training Corps program.
Max. S. Blachman, a representative of U.S. Sen. Sherrod Brown, called the 25-percent unemployment rate among young veterans returning from Iraq and Afghanistan a "national tragedy."
He said the new facility will help AMVETS Post 44 continue to provide services to veterans, and the Career Center will help veterans and their families get training and find jobs.
Post 44's new facility is a "step in the right direction" toward lowering the unemployment rate of veterans, which Matthew Vargas, a representative of U.S. Rep. Timothy Ryan of Niles, D-17th, described as "appalling."
Geer, who brought greetings from the AMVETS national commander, said because Post 44 made the transition from a house of God to its post home, he presented a Bible to the post.
"What you've done here proves it can be done [despite a weak economy]," Graham said. No other post has done this recently, said Graham, who challenged Post 44 to become the best post in the state.
The career center, open Monday, Wednesday and Friday, has four work stations. Both the numbers of days and work stations can be expanded depending on demand, Brown said.
Kester said there has been an influx of new, younger members into Post 44 over the past five years who want to give back to veterans and to the community, and the AMVETS gave them the opportunity.
Brown said AMVETS looked several years for property for the career center and new post home, but everything was too expensive.
He said individual donations helped pay for the church property and its restoration was given a huge boost by the Boardman Home Depot in the form of a $10,000 grant and Home Depot and vendor employees volunteered their time to help build a handicap ramp and do interior painting and outside landscape work, Brown said.
"It's our way of giving back. We've adopted Post 44," said Buddy Colley, manager of Boardman Home Depot and an Army veteran serving from 1973 to 1976.