Austintown stadium gets upgrade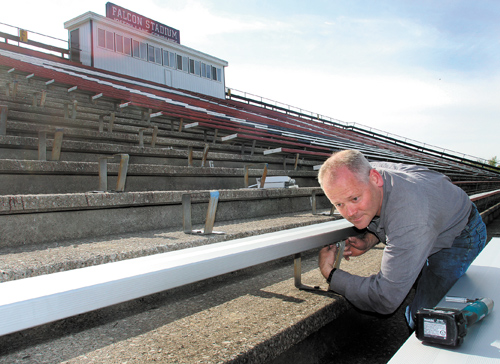 Photo
John McCague, of Buckeye Bleacher Repair in Sunbury, Ohio, installs new aluminum bleachers Wednesday morning in a section of Falcon Stadium in Austintown. The bleachers are replacing the last remaining section of original wooden bleachers, which were installed when the stadium was built in 1970.
By Elise Franco
efranco@vindy.com
AUSTINTOWN
The final section of original wooden bleachers in Fitch Falcon Stadium are a thing of the past.
A crew from Buckeye Bleacher Repair of Sunbury, Ohio, spent Wednesday installing a new set of aluminum bleachers on the end section of the stadium's visitor's side. They'll finish the installation today.
Mal Culp, supervisor of facilities and operations for the Austintown School District, said the bleachers cost $17,900. The district paid for half from its capital-improvement fund, and the other half was paid for by the Falcon Forward Committee, he said.
"The wooden bleachers were part of the original bleachers installed in 1970," he said. "Over time, we'd upgraded the entire stadium except for that last section, mainly because of cost."
Ray Holmes, treasurer of Falcon Forward, said the organization was created about five years ago to raise money for improvements to the stadium and other athletic facilities such as the high school locker rooms.
"Those wooden ones have been there for a long time, and a lot of them have been breaking," he said. "It's better to get it fixed and done rather than worrying about someone getting hurt on them."
Schools Superintendent Vincent Colaluca said it's important to maintain the stadium because of constant use by hundreds of students in a variety of activities and sports.
Colaluca said building a new stadium of the same quality would costs millions of dollars.
"We need to hold onto the investment our community gave us back in 1970," he said. "It's used for a lot of athletics, from track to soccer to football, and one of the most important features, our band."
Holmes said since its inception, the Falcon Forward organization has raised about $350,000. The money has been used to remodel the stadium press boxes, add two concession stands, build scorers' boxes for the baseball fields and help remodel several high school locker rooms for both boys and girls teams.
"Falcon Forward is ongoing, and we're always trying to raise more money to further improvement projects," he said.