YSU chief, faculty study money matters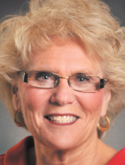 Photo
By Karl Henkel
YOUNGSTOWN
The taste of bitter contract negotiations between Youngstown State University and its faculty last year seems to have mostly subsided, or so it seemed during a Wednesday meeting between the president and faculty members.
Cynthia Anderson, YSU president, fielded a few questions and comments regarding last year's tenuous contract talks, but a majority of the one-hour session at Kilcawley Center focused on the present and future.
The YSU chapter of the Ohio Education Association ratified a new three-year concessionary agreement last September after protracted talks and a strike threat. The YSU trustees approved the contract Oct. 26.
The focus Wednesday, however, was on issues regarding student retention, university marketing and the much-debated proposed mandatory transportation fee, which could result in a $100 fee for all students regardless of parking and transportation needs.
Much of the discussion touched on financial obligations.
Anderson said many of those decisions will be based on state funding, which she expects to remain "flat" in 2013.
"We are trying to curb our costs," said Anderson, who said she hopes the coming budget will be finalized to last the entire fiscal year, so the university will not have to make alterations midyear.
Anderson said she expects enrollment also to remain "flat" next year, which means program costs likely will fall back in line with revenues.
This semester, enrollment fell 3.8 percent, from 14,253 students last spring semester to 13,698 this time around.
Part of the reason for the enrollment decline, at least in the mind of one engineering program coordinator, was the lack of summer class options and the fact many students are electing to begin or elect to complete their college careers at schools such as Eastern Gateway Community College.
Ikram Khawaja, provost and vice president for academic affairs, said EGCC has a "nominal" impact on YSU enrollment.
Summer classes come into play because YSU has pressed for graduating students within three years, though Anderson said the goal is not to create "three-year degrees."
"That three years also means that students will have participated in college courses while they were in high school," she said.
Jean Engle, assistant director of marketing and communications at YSU, said she is concerned about the new Natural Gas and Water Resources Institute focusing too much on industry jobs and studies than on being well-rounded and community-focused, particularly when it comes to protecting water sources.
"For people who have wells, the pretest cost is anywhere from $1,500 to $2,000," Engle said.