Published: Wed, April 18, 2012 @ 12:00 a.m.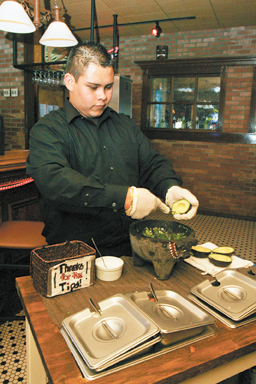 Photo
Employee Trino Ortega makes fresh guacamole. Customers can choose how much of which ingredients to make the guacamole suit their preferences in flavor and spiciness.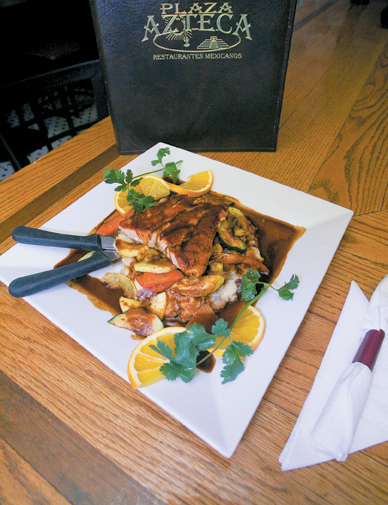 Photo
The Plaza Azteca restaurant in Niles features upscale Mexican cuisine such as this Salmon Pasilla dish, which includes a pan roasted Salmon filet, grilled vegetables, garlic mashed potatoes and a honey Pasilla sauce.
By Ross Morrone
NILES
The first thing we noticed when we walked through the doors of Plaza Azteca was how nice everyone was, from the hostess and the chefs singing in the kitchen to our bubbly and menu-savvy waitress, Sam.
My wife, Steph, and I felt very welcomed for our first visit.
If there is one thing my wife and I share a love for it is chips and a good dip. Getting the nice full basket added some crunch as we discussed our workday. We looked over the appetizer list, and with many classic Mexican choices we wanted a nice dip to use our basket of chips on.
We decided to try the Queso Fundido ($6.50). In three short minutes it was out, but what set out to be a cheesy queso dip with chorizo sausage fell short and ended up a not-so-melted cheese and rather bland sausage. A few extra minutes in the oven could have made all the difference blending what appeared to be three cheeses together.
Traditionally chorizo has a very smoky tone to it with some heat. Unfortunately this lacked the heat I was craving. A dab of the habanero sauce staring me down on the table changed all that.
For her main dish, my wife ordered a la cart chicken quesadilla ($6.50). It was loaded with chicken, but she would have liked to see more cheese to add flavor and balance. Otherwise she enjoyed its flavor.
A bit more aggressive, I ordered the Steak and Chicken Fajitas ($11.24). The dish came with a nice mix of pico de gallo, refried beans, rice, sour cream and cheese — the perfect accessories for fajitas.
Every time I have this type of dish, I always try the refried beans, only to discover that I despise them. This time was no different. It's a personal problem. I just don't understand how frying beans could possibly make them more appealing.
The skillet provided beautiful veggies and flavorful chicken but lost its momentum with the steak, which could have been a little tenderer for my liking. However, since it was inside flour tortillas filled with the other ingredients and folded over like an oversized torpedo, I couldn't have been more pleased.
One thing is for sure: You won't leave Plaza Azteca with an empty stomach or wallet. Mixed with a few Mexican drinks, the experience provided an enjoyable date night out. Affordability, pleasant environment and great portions allow this restaurant to stand out from the others. Although our palate for Mexican flavor is not that expanded, our Food:30 experience at Plaza Azteca was a positive one.