Natural gas industry in a crash (and burn)
---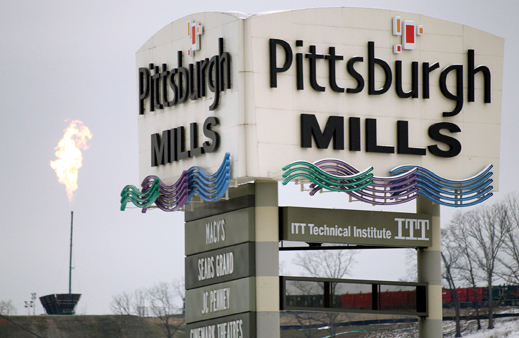 Photo
The flare from the gas burnoff from a Marcellus Shale well is seen over the Pittsburgh Mills mall in Tarentum, Pa. The flaring is a controlled burn to release pressure and test the volume of gas inside a well, according to drilling company Range Resources.
By Karl Henkel
YOUNGSTOWN
There are two reasons your heating bills likely were significantly less this past winter than in other years: the unseasonably warm weather and rock- bottom natural-gas prices.
The nice weather doesn't seem to be going anywhere, and neither do cheap gas prices.
The latter is having an impact on the oil-and-gas industry, which for the past decade has explored and extracted from gas-rich shale plays in Texas and Pennsylvania, to name two.
Just three years ago, natural gas was $10 per 1,000 cubic feet, which allowed drillers a comfortable profit margin on their investments, which in unconventional shale plays can reach $10 million per horizontal well.
But today, natural-gas prices are below $2 per 1,000 cubic feet for the first time in a decade.
Gone is the prospect of gas-only exploration. The operating gas-rig count nationwide was 624 last week, the lowest weekly figure in a decade, according to Houston oil-and gas-services company Baker Hughes.
Gone, too, is the gaping profit margin.
Energy analysts estimate that $5 per 1,000 cubic feet is the profitability point for most drillers; any price less than that, coupled with a deficient way of transporting or storing, makes for an unfavorable business model.
"There are no hard-and-fast rules on that," said Dan Whitten, spokesman for Americas Natural Gas Alliance. "What you're seeing is some companies are making those decisions, and I think some of that is areas where there are only dry gas potential."
Low natural-gas prices have changed the strategy for drillers in various ways.
First, companies such as Oklahoma City-based Chesapeake Energy Corp., a large mineral-rights holder in Ohio, has decided to back out of natural-gas plays such as the Barnett Shale in Texas and the Marcellus Shale in Pennsylvania.
The company's rig count in the Barnett, which was 43 in 2008, is just six this year.
Meanwhile, the company hopes to have 40 rigs in the Utica Shale by 2015.
But drillers must also consider what they want to do with natural gas from current wells.
Storage is the most obvious option, but because of the aforementioned mild weather, there's a surplus of natural gas, and underground storage space is now at a premium.
Drillers can "dial back" natural-gas production at well heads, but not nearly to the extent that it could alleviate the gas surplus.
That brings in another option: flaring, the process in which gas is elevated and burned.
The process has been used for operations reasons for years, but never to the extent it is used today.
In North Dakota's oil-rich Bakken Shale, it is estimated that as much as one-third of all produced natural gas is flared.
Natural gas normally accompanies oil in the production and extraction process, which means that even if drillers target oil- and wet-gas-heavy shale plays, natural-gas production still will occur.
That is the case in the Utica Shale, where the most heavily oil-producing well in Ohio also produced 1.5 million MCF of natural gas, albeit in just about six months' time.
Chesapeake says it is prepared for Utica Shale exploration and low natural-gas prices.
"The purpose of flaring is to safely consume any produced gas before it has reached sufficient conditions to enter a sales pipeline," said Pete Kenworthy, Chesapeake spokesman. "After the well is connected to the pipeline, if market circumstances warrant, we can wait to turn the well online. In similar conditions, we can also cut back on production."
Environmentalists have criticized natural-gas flaring as an even worse hazard than the actual extraction process, which is done by fracking, or blasting a mix of water, chemicals and sand thousands of feet below the ground to open shale rock formations.
"It seems we should slow down the drilling until natural-gas prices rise so that it becomes a smart business model," said Vanessa Pesec, president of the Network for Oil and Gas Accountability.
"[Flaring] contributes to organic compounds in the air that will affect everyone's health and greenhouse gases," she added.