Poland hands Canfield its first loss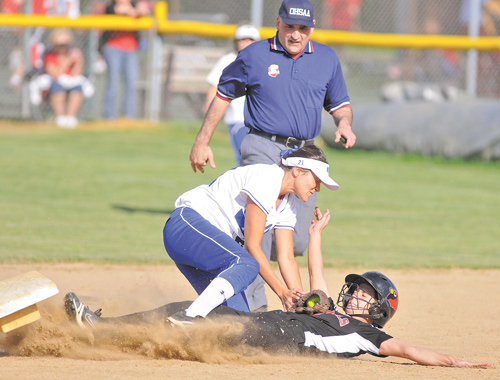 Photo
Poland's Kalie Benson puts the tag on Canfield's Alexa Bodine, who was safe trying to reach second base during their game at Canfield High. The Bulldogs scored five runs in the top of the seventh inning to pull away for the 9-2 victory over their rivals.
CANFIELD
She had reached base by way of a walk and fielder's choice in her previous two at bats, but when Emily Chandler stepped to the plate in the top of the seventh inning she had to get a hit.
Emily did — with a double — driving in a pair of runs in the process. It was part of a five-run inning for Poland that led it to a 9-2 win over Canfield.
"I don't really listen to anything around me when I'm batting," Emily Chandler said. "I just focus on the pitch.
The offensive outburst came after Sarah Vrabel sent the Bulldogs down in order in the sixth. And after Abby Baker belted a home run in the fifth inning, bringing Canfield back to just a 4-2 deficit.
Erin Gabriel got a one-out hit, followed by Taylor Miokovic's single, doubles by Meredith Testa and Chandler, a Maura Bobby single and a double by Marissa Trevis.
"It was real contagious for us," said Poland coach Reid Lamport. "The momentum kind of switched because they were motoring and doing a good job of getting back in it. It's important to re-establish momentum any chance you can, so we came up in the seventh to get crucial runs."
On the mound, Gabriel fanned 15 Cardinals. The Tennessee-recruit struck out the side in the second, fourth and sixth innings.
"You just have to tell the girls to be ready for anything," Canfield's first-year coach Ray Melewski said. "She throws a change up for strikes where other girls throw them away to get girls to chase. She throws them dead on to fool the hitter."
The Cardinals (9-1, 4-1 All-American Conference) did collect three hits, two coming in the fifth. Rachel Tinkey led off the inning with a double. Two batters later, Baker delivered a shot to straight away center field for the two-run blast.
The junior has missed half of the season due to a back injury sustained in the final Canfield basketball game.
"For her to hit a home run was huge,' Melewski said. "She's a big key for us and that was huge to just get back in the game."
Its first game in Ohio since an April 5 showdown with Hubbard, Poland (7-1) didn't need much encouragement to come back from a softball tour of Florida.
"It's Canfield," Chandler said. "We're always pumped to play our rival."
Lamport agreed saying, "we were just as excited to play down there as we were today. It didn't take any sort of adjustment, I don't think. It took us a while to get going because Sarah pitched really well against us."
The Canfield senior pitcher had six strikeouts.
The Bulldogs' first runs came in the second inning and they scored three in the fourth.
The two teams face off again today at 5 p.m. — this time at Poland High.
"We have to brush the dirt off, forget it and come back up with a little fire," Melewski said.