Penguins face four-game sweep; Adams suspended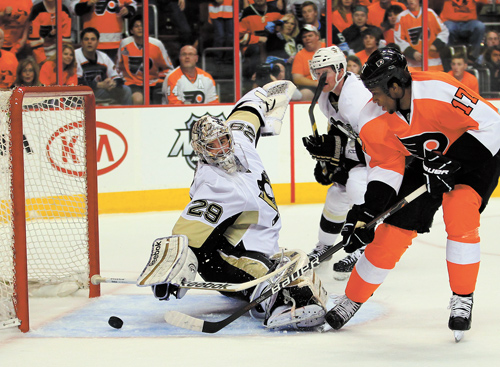 Photo
Philadelphia Flyers' Wayne Simmonds, right, puts the puck past the reach of Pittsburgh Penguins goalie Marc-Andre Fleury for a goal during the second period of Game 3 in a first-round NHL Stanley Cup playoff series Sunday in Philadelphia.
Associated Press
VOORHEES, N.J.
The Penguins are trying their best to beat up the Philadelphia Flyers.
Heck, even captain Sidney Crosby tossed aside concerns about blows to his head and mixed it up in a couple of melees.
The Penguins have come for a fight in their opening-round series. The Flyers have refused to back down from a rumble — note the 158 penalty minutes in Game 3 — but the orange and black have saved their biggest beatdowns for the scoreboard.
Led by Claude Giroux and Danny Briere, the Flyers have a whopping 20 goals over the first three games, including six goals on the power play and three coming short-handed. The Flyers forced Marc-Andre Fleury to the bench in their 8-4 win in Game 3 and are one Game 4 victory away from an unlikely sweep.
The Penguins will be forced to rally short handed on Wednesday, as Craig Adams was suspended for one game Monday for instigating a fight at 15:18 of the third period. He was assessed a minor penalty for instigating, a major penalty for fighting and a game misconduct.
Penguins coach Dan Bylsma was also fined $10,000 for Adams' actions.
Meanwhile, Arron Asham and James Neal both face suspensions for their roles in various fights.
Asham crosschecked Flyers forward Brayden Schenn in the upper body. Asham then jumped a defenseless Schenn and connected with a vicious right and was ejected. Adams pulled Scott Hartnell's hair and clocked the Flyers forward from behind. Neal flattened Game 2 star Sean Couturier in the waning minutes and sent the Flyers rookie center to the locker room. Neal also targeted Giroux with an elbow to the head.
The Penguins tried to send a message they wouldn't be pushed around in a series where they have little to hang their helmets on.
"They weren't trying to hit to be effective," Hartnell said Monday, "They were hitting to hurt."
Giroux called Neal's failed attempt to take him out "dirty."
The gloves have been dropped, the trash talking has been spewed, and the bad blood has come to a boil.
So far, none of those intangibles have done much to help the Penguins.
The problems start with Fleury in net and his 17 goals allowed this series. He's saved only 80 percent of his shots and was pulled for Brent Johnson before the third period on Sunday.
Bylsma backed his goalie and said Fleury would start, "the next four games."
The list of problems stretches as long as the list of players in the Game 3 penalty box.
Crosby has two goals and Malkin (four assists) has been kept off the scoreboard. The Penguins can't hold early leads. The special teams unit has been abysmal and suddenly a team that was the odds-on favorite to win the Stanley Cup could find a sweep leads to sweeping changes on the roster.
"I think there's a little bit of shock, disbelief and disappointment," Bylsma said Monday. "I think you'll find to a man we don't think in this series we've played our hockey, played good hockey. I think you see that frustration in the game build up and overflow. I think any team in that situation in playoff hockey, down 0-3, I think if the shoe was on the other foot, you'd see that type of reaction."
With a two-day break, Bylsma gave the Penguins a day off. The Flyers skipped the ice and held a team meeting at their practice facility in New Jersey.
The Flyers know what the Penguins are going through. Each of the last two seasons, they've trailed 3-0 in a postseason series and responded with strikingly different results: The Flyers won four straight to stun Boston in 2010 and were meekly swept by the Bruins last season.
Giroux said the Flyers aren't worried about past history, nor do they care about Pittsburgh's rough-and-tumble style affecting their momentum.