OEPA explains actions regarding Patriot permits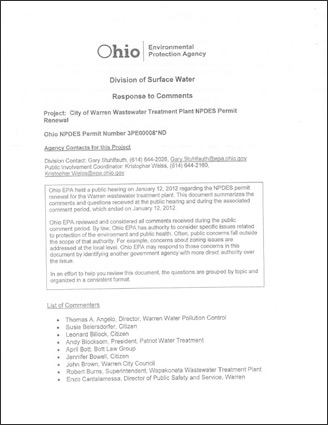 ---
EPA Response - Patriot Water

Document
Ohio Environmental Protection Agency, Division of Surface Water - Response to Comments on the Patriot Water Treatment, LLC permit renewal.
By Karl Henkel
WARREN
The Ohio Environmental Protection Agency finally has offered comment regarding Patriot Water Treatment LLC in Warren, albeit through a letter postmarked last week.
OEPA previously had declined to comment on nearly all aspects regarding Patriot because of pending litigation. The two sides once again will go before the Ohio Environmental Review Appeals Commission next week regarding permits granted to Patriot and Warren.
The comments were in response to a public hearing Jan. 12 at Warren G. Harding High School. A copy of the response is available at Vindy.com.
Patriot treats some fracking wastewater and then sends the pretreated wastewater to the city's municipal treatment plant.
The responses, three months after the public meeting, detail reasons behind OEPA's decision to attempt to enforce stringent water-quality standards on Warren.
Those standards, outlined at the meeting, never were enforced. OEPA decided to forgo total dissolved-solids restrictions and instead implement a rule banning Warren from treating any water from oil and gas operations.
Andrew Blocksom, president of Patriot, said OEPA still has "not provided all relevant information to the pubic" regarding the new permits.
The reason for the state's change in permit regulations had little to do with the initial decision to allow Patriot to accept and disperse some fracking wastewater — that decision was already solidified in a previous ERAC case. The change was made because of a state law ensuring compliance with water-quality standards of nearby states.
In this case, because the Mahoning River flows into Pennsylvania, which has different water-quality standards, OEPA says it can change permit regulations.
Blocksom, whose business has been idled since the new permit was implemented April 1, says the decision on his company's future should come down to compliance.
He says Patriot always has operated in compliance of state law.
"We still haven't gotten the answers we should have got," Blocksom said. "We're not in noncompliance. If that's the only way they can shut us down ... then I shouldn't be put out of business."