Going, going ... Avalon Gardens is gone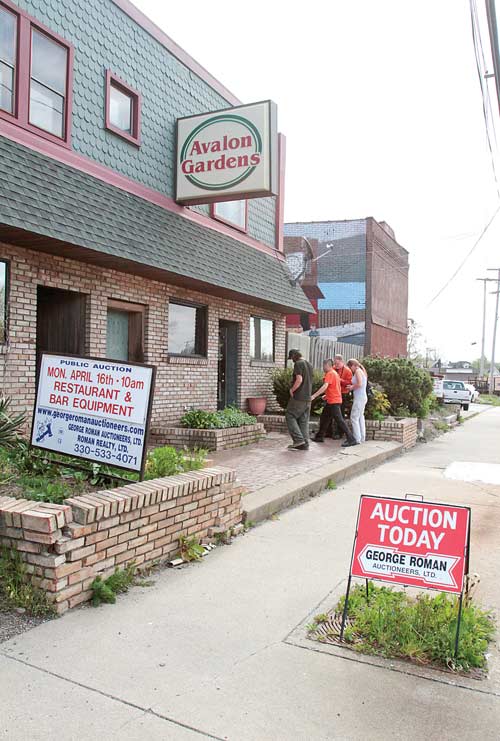 Photo
Those entering the Avalon Gardens auction stand outside as the sale progresses inside the former tavern and restaurant on Belmont Avenue. The contents of the North Side landmark were sold Monday.
YOUNGSTOWN
Years of North Side history were removed in just a couple of hours when the contents of Avalon Gardens on Belmont Avenue were sold at auction.
Some of those attending Monday just wanted to say goodbye to a Youngstown landmark that had been open 90 years while others were looking for deals to continue their own businesses.
The family of James "Jim" Donofrio, the owner of the tavern, closed the business in January. Donofrio has been missing since late September.
Nancy Donofrio, James' sister-in-law, said she attended the auction because it was too difficult for most other family members to attend.
"He bought this place about a year ago, and he had great hopes," she said.
Jim cared about this community and the history of Avalon Gardens, Nancy Donofrio said. This place had one of the oldest liquor licenses in the city.
The sale was a sad ending for Christine Graves, who had worked 10 years at Avalon Gardens. She came to the sale as a way to say goodbye.
"It's amazing all the people I've met through working here, and those that I'm still friends with," she said.
There are a lot of longtime customers who came to the sale as well.
Two of those customers, Rick Ortz and John Twig, said they had been coming to Avalon for more than 40 years. The pair was part of the group that built the boccie courts at Avalon Gardens.
It is sad for this business to end like this, Ortz said. "I'm the second generation coming here. My mother and father used to come here, too," he said.
There are not a lot of places left in Youngstown like Avalon Gardens, said Mike Lazazzera, a cousin of James Donofrio.
"It seems like everything is moving to the outskirts, out to [U.S. Route] 224 and [U.S. Route] 422," he said.
The classic taverns in Youngstown are closing, because it seems people do not want to own businesses in the less-wealthy parts of town, Lazazzera said.
Ondre and Shasta Shabazz come to all of the restaurant auctions in the area, but said they were attracted to the one at Avalon Gardens because of its history.
"We never know what type of theme we're going to use," said Ondre Shabazz.
The couple owns So Dog Gone Good hot dog shop and Uptown Theater.
Meanwhile, the missing person case involving James Donofrio continues.
"The FBI has taken over the case, and they're doing all they can to help us," Nancy Donofrio said.
Everything about this is still really difficult because the family doesn't know where he is, Nancy Donofrio said. "They've told us for someone who has been missing this long the ending is not going to be good."
The entire family gets upset every time an unidentified body is found, she said.
Donofrio was reported missing Sept. 25, 2011. He was expected to close the restaurant that night but never arrived.