10 teachers, 31 others cut in Austintown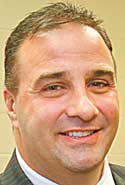 Photo
By Elise Franco
Austintown
School-board members announced a round of staff cuts that will affect mainly nonteaching employees.
Board members voted Monday not to renew the contracts of about 20 paraprofessional positions and eight part-time nurses and Fitch health-clinic staff for financial reasons.
Superintendent Vincent Colaluca said 10 teachers also will be laid off at the end of the school year, as well as two gifted-teaching positions and a Title I coach.
Colaluca said the gifted-learning program itself won't change, and the loss of the two positions will mean a shuffling of some duties.
These changes will take effect at the end of the 2011-12 school year.
"We've been surviving since 1996 without new operating money," he said. "Unfortunately with the state's last biennium budget we're losing $2 million in funding."
Colaluca said the board's decision was made with academics in mind, and the teachers to be laid off could be brought back once open-enrollment numbers are tallied.
"With 600 employees and 5,500 students, we're trying to make the minimum amount of adjustments that will affect academics," he said. "Of course it's very difficult to do this."
The board also approved a resolution to cut hours for 41 bus drivers from four hours to three-and-a-half hours per day, which means they will no longer be eligible for health care through the school district, Colaluca said.
He said bus drivers' routes now take them about 3,000 miles per day, but a new two-tiered busing system will bring that down to 2,000 miles per day and cut each driver's hours by one half hour.
For example, the cuts in paraprofessional positions will save about $212,000 per year and teacher cuts about $500,000 per year Colaluca said.