YSU survey highlights benefits of Mill Creek MetroParks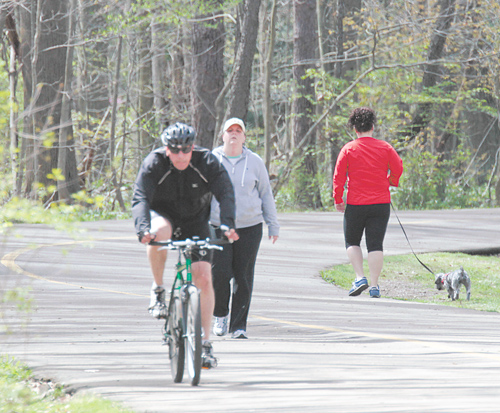 Photo
The 1.5-mile Mill Creek MetroParks East Golf Hike/Bike Trail runs from Route 224 to Shields Road in Boardman. YSU conducted a study on how people use the trail, based on data from 2010.
By Elise Franco
Youngstown
A survey conducted by Youngstown State University outlines the importance of a local trail to the health and fitness of Mahoning Valley residents.
Sal Sanders, associate professor of health professions at YSU, said he and a team of staff and students conducted a survey on the Mill Creek MetroParks East Golf Hike/Bike Trail.
The survey was conducted for one week in each of the spring, summer and fall seasons in 2010, and the data recently were released by the university.
Sanders said he and two colleagues — Mark Zetts, department of human ecology; and Dr. Nicole Mullins, department of human performance — came up with the survey by frequenting the trail themselves.
"We use this particular trail, and having run on it and walked on it we've overheard conversations that indicate a lot of positive health benefits with people using it," Sanders said. "That trail is busy every day of the week, and we wanted to find out why people go there."
The trail is 1.5 miles long and runs from U.S. Route 224 to Shields Road in Boardman.
The group surveyed about 600 people using the trail and found the following data led each category of gender, race and age: 59.2 percent were female, 87.4 percent were white and 44.1 percent were between 45 and 64 years old.
"One of the surprising things was the demographics of the people surveyed," Sanders said. "Not a lot of minorities use the trail."
The survey also revealed that 82.4 percent of the 600 surveyed walk the trail, 45.3 percent jog or run, 31.5 percent bike and 9.7 percent walk a dog. The results were not based on a scale of 100 percent because those surveyed could choose more than one activity, Sanders said.
He said the majority of those surveyed said they use the trail to maintain a healthy lifestyle. The time of each person's visit ranged from 15 minutes to nearly three hours.
"The top reasons were to improve physical fitness, lose weight, enjoy nature and manage stress," he said. "The majority felt the trail was important to reaching their wellness and fitness goals. It plays a pretty significant role in those who are there."
Although David Eyster, 49, of Austintown wasn't a part of the survey, he told The Vindicator on Friday that for the past 15 years he's run the trail four or five times per week.
"I run it almost every day as my exercise," he said. "I love that it's wide so you can get around bikers, walkers and dogs."
Eyster said the trail is a pleasant place to run because of the route he takes.
"It's all very scenic, and you aren't just running in a straight line," he said.
Michelle Lopatte, 54, and Linda Martin, 59, both of Youngstown, said they walk the trail for about an hour every day.
Lopatte said it's a refreshing way to get in her daily exercise.
"Through the years, we've done this to stay healthy," she said.
Martin said they choose this trail because they feel it's a safe place to walk. "It's marked, relatively flat, and you always feel pretty safe out here."