HAPPY 100TH BIRTHDAY | Grace E. Smith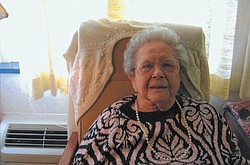 Photo
HAPPY 100TH BIRTHDAY
Grace E. Smith
THE HONOREE
Residence: Crandall Medical Center, Copeland Oaks, Sebring.
Date of birth: April 19, 1912.
City and state: Cornersburg, Ohio.
FAMILY
Parents: Bertha and Dayton Zimmermann.
Siblings: Harold, Madge, Thelma, Harriet, Edna, who are all deceased.
Spouse: Howard Seabrooks, married in 1930, deceased; and Wilson Smith, married in 1974, deceased.
Children: Janet Seabrooks Neuberger and Madge Seabrooks Leedy.
Number of grandchildren: Eight.
Number of great-grandchildren: 23.
Number of great-great grandchildren: 23.
BACKGROUND
Employment: Was a beauty shop operator and worked in real estate.
Church membership: Poland Presbyterian Church.
Club membership: Youngstown City Club.
ADDITIONAL INFORMATION
Eats cereal every morning.
Plays solitaire and bingo, does crossword puzzles.
Has a great sense of humor.
CELEBRATION
100th birthday party will take place from 4 to 7 p.m. Saturday at Copeland Oaks.