Family shares matriarch's Titanic survival
By Denise Dick
HERMITAGE, Pa.
Titanic Survivor Remembered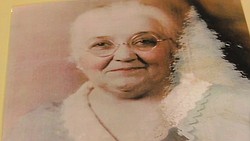 Video
Shahnine George was a survivor of the Titanic disaster. Her grandson and great grandaughter recall the impact the event had on her.
When Joseph George visited the Harry Elkins Widener Memorial Library as a student at Harvard University, he wondered whether its namesake was one of the men who pushed his grandmother into a lifeboat as the Titanic sank.
Widener was a 1907 graduate of Harvard who died on the ship. He was a first-class passenger.
George's grandmother, Shahnine George (also spelled Shawneene or Shawneenee in some references), was a Lebanese immigrant who went door-to-door washing people's laundry for a living. She traveled aboard the Titanic in third class.
Joseph George discovered a plaque detailing Widener's story while a he was a student at the Ivy League school. Widener's mother donated to Harvard to memorialize her son.
"My grandmother was sleeping and there was a lot of shouting," Joseph George of Hermitage said of that fateful night.
She went up on deck to see what was happening and learned the ship was sinking.
"These men told her, 'Lady, you've got to go,'" trying to usher her to one of the lifeboats.
She tried to go back below deck to get her three male cousins with whom she was traveling.
The men on deck, all first-class passengers, pulled her back up, told her there wasn't time and got her into a lifeboat.
"When she looked back she realized, those men weren't going to get off of the ship," said Joseph George, the chief executive officer of the Joy Cone Co. in Hermitage.
Shahnine survived the April 15, 1912, sinking of the great ship in the North Atlantic. The Titanic was sailing from Southampton, England, to New York City.
The idea that first class passengers, dressed in their finery, helped to save her, a third class passenger dressed in her nightclothes, always struck his grandmother, who died in 1947 when Joseph George was 10.
She was grateful for their sacrifice.
When his grandmother relayed the story of the sinking ship, she wept as she talked about the men pulling her into a lifeboat.
As a laundress, she never went to the front door of those types of people to pick up their cleaning. She stayed to the back door.
She was a strong woman, coming twice to America from her native Lebanon basically on her own.
"She was strong, but she wasn't an aggressive woman," he said. "Her strength was more in her capacity to endure."
His grandmother never learned to read or write and spoke broken English, he said.
Her children didn't have much formal education, but many of her grandchildren graduated from college and all of her great-grandchildren graduated or are headed in that direction, Joseph George said.
She was also compassionate. When Joseph George was a young boy, a relative who was serving in World War II brought back a souvenir, a German soldier's pack. Joseph was fascinated by it.
Shahnine asked what it was and when she learned it had belonged to a soldier who had been killed, she started to cry.
"I said, 'It's OK. It was a German,'" Joseph said. "I thought they had horns or something. She said, 'Don't you think that German had a mother, a brother, people who loved him?'"
That changed his perspective.
Joseph's daughter, Sharon George of Mercer, knew growing up about her great-grandmother's history. She read articles and documents about the disaster and interviewed every relative who had known her.
"I think she represents what's best about our family," she said. "She and many other immigrants worked so hard to make America a great country to live in."
Her great-grandmother, who died before Sharon was born, sometimes talked about the night the giant ship sank.
"She would at times wake up in the middle of the night from hearing the sound of the Titanic when it sank and the sounds of the screams of the people in the water," Sharon said. "That's what seemed to have stuck with her."
Shahnine George was a rare combination of strong but emotional, her great-granddaughter said.
"She was easily given to tears, but she was tough as steel," she said.
Sharon described her great-grandmother as a steel magnolia.
As a child Sharon was interested in the story of the fated ship and intrigued by her Shahnine's ordeal.
"Virtually every relative whenever they speak about her, they speak with such incredible reverence," Sharon said.
Shahnine, who stood about 5 foot, was 38 when she boarded the Titanic in Cherbourg, France.
She and her husband were both the youngest of their respective families in Lebanon.
"They were living in abject poverty basically," Sharon said. "Like a lot of immigrants back then, she thought that the streets in America were paved in gold and that it was easy to make money."
In 1906, she came to Youngstown.
"While in America, she worked going door to door, washing people's laundry and selling various types of cleaning implements," she said. "She was a peddler, basically."
In 1908, she received word that her husband had died and she brought all of her family to the U.S. except one son, Albert, who was Sharon George's grandfather and Joseph George's father.
Her sons were in their teens and her two daughters, Rose and Mary, were ages 7 and 4.
Her son, Thomas, later became ill and a doctor told Shahnine that he needed the clean mountain air of Lebanon.
She sent Thomas and another son, Joseph, back to Lebanon.
"He didn't get any better," Sharon said.
In late 1910 or early 1911, she got word from her sister that Thomas was rapidly deteriorating.
She put her daughters in an orphanage with the intent of coming back to get them.
"Aunt Mary, who died a few years ago at 105, said they loved the orphanage," Sharon said. "... the sisters there were so wonderful to them."
She traveled back to Lebanon, but it was a long trip and by the time she arrived Thomas was already dead. It took a while for Shahnine to make and save enough money to return to the United States.
When she had the required third-class fare, she boarded the Titanic in France, bound for New York and planned to travel from there to her home in Youngstown. She was traveling with three male cousins and the 13-year-old niece of one of the men.
Shahnine and the young girl were the only survivors from the group.
She wore nothing but her nightclothes and no shoes when she was ushered onto the lifeboat. She didn't have time to secure any of her possessions.
"As they were going away, they saw the Titanic sinking," Sharon said. "They all sat there listening to them screaming until there was no sound."
Through the night while they awaited rescue, Shahnine listened to the cries of another immigrant woman who had been separated from her 5-year-old son who also was named Thomas. The woman believed the boy perished on the ship.
That woman's grief flooded Shahnine with memories of the loss of her own son in Lebanon.
After being rescued by the Carpathia, Shahnine discovered a nurse aboard with a young child. She recognized him as the missing Thomas and reunited the mother and child.
The Carpathia took the survivors to New York and Shahnine traveled by train back to Youngstown where she continued her life as a laundress.
Eventually, she brought her sons, Albert and Joseph, to the U.S. The family opened a small grocery store in Brookfield and in 1918, after buying ice cream cone molds from another Lebanese man, they started an ice cream cone company at that Ulp Road location. Shahnine worked at the company, then called the George and Thomas Cone Co.
That company would become the Joy Cone Co. which later relocated to Hermitage and remains a family business with about 400 employees.
Sharon is the director of quality. Her brother, David, is the president; another brother, Aaron, is the head of West Coast sales; and a cousin, Joe White, is the director of engineering.
David knew growing up that his great-grandmother was a Titanic survivor but he didn't know a lot of details until Sharon's research.
Sharon believes the story of the Titanic continues to fascinate people 100 years later because it's the story of life.
"It has drama, love, tension, sadness, sorrow, joy," she said. "The Lebanese immigrants who were on the Titanic were ecstatic to be on the Titanic. Third class on the Titanic was nicer than first class on other ships."
Joseph George said his grandmother was the matriarch for a family that didn't have a patriarch and Shahnine's descendants see themselves as a close family unit.
"She left a legacy," he said.