Many Valley workers lack skills for growing manufacturing jobs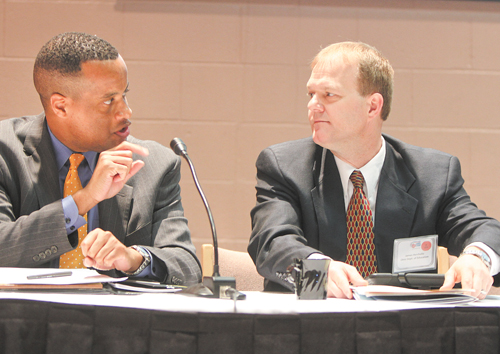 ---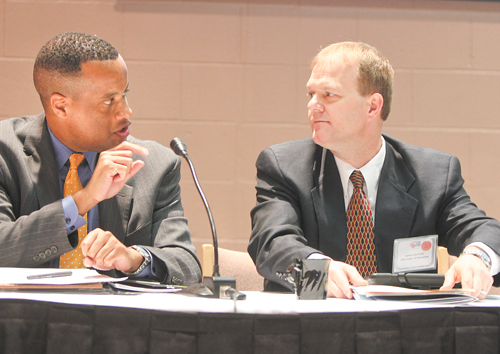 Photo
Jay Williams, left, former Youngstown mayor and current executive director of the U.S. Office of Recovery for Auto Communities and Workers, makes a point at Thursday's manufacturing summit in Youngstown. Jim Herrholtz, assistant superintendent for the division of learning for the Ohio Department of Education, listens.
YOUNGSTOWN
A lack of skilled manufacturing workers could slow the progress the Mahoning Valley is making in economic development.
The Oh-Penn Interstate Regional Manufacturing Workforce Summit at Youngstown State University on Thursday focused on problems facing the local manufacturing base in finding qualified workers. The Mahoning Valley Manufacturers Coalition sponsored the event.
This summit is necessary because all manufacturers in the Valley face the same issue: There are not enough people who have the necessary skills for the modern manufacturing industry, said Brian Benyo, president of Brilex Industries Inc.
"Skilled labor is very hard to come by; it's the most significant challenge facing our businesses in survival and future growth," Benyo said.
No company in the Mahoning Valley is big enough to solve the skilled-workforce shortage on its own, he said. Companies have to work together to find solutions. They must also ensure educators and politicians understand the problem.
There is a need for parents and educators to encourage young people to seek jobs in manufacturing, said Coleen Chamberlain, human resources administrator/specialist for Xaloy, Inc.
Because students do not seek careers in manufacturing, employers don't see the skills they need for available positions.
V&M Star sought 350 employees for its new Youngstown facility and received more than 16,000 applications for those positions, according to Trina Rauscher-Cooper, director of human resources for the company.
In the end its hard to find a 10 percent pool of applicants that is qualified, particularly those with millwright or maintenance skills, she said.
The education systems need to do better to get students either college or career ready, said Jim Herrholtz, associate superintendent for the division of learning for the Ohio Department of Education.
Some efforts are ongoing that could provide help locally.
Some $2 billion in grants are available through 2014 from the federal government for community colleges and certification programs to aid with programs that provide training that is relevant to today's workforce, said Jay Williams, executive director of the U.S. Office of Recovery for Auto Communities and Workers and a former Youngstown mayor.
Oil and gas companies may actually be a threat to the future of the local manufacturing base, Benyo said. Those companies can pay higher wages and fight for the same pool of workers with skills in welding, machine-tool assessment and maintenance.
There is a lot of diversity within the local manufacturing base, but there is a risk of losing that diversity without qualified workers, he said.
Pennsylvania has a program to develop qualified workers that is a partnership between businesses and the state, said Dan Kuba, director of the bureau of workforce development partnership for the Pennsylvania Department of Labor and Industry.
"All too often, workforce development doesn't take a proactive approach," he said. "When challenges arise it is up to the business community to come up with answers."
Pennsylvania started working eight years ago to take feedback from businesses to create priorities for workforce development and then placed its funding behind those priorities, Kuba said.
Local offices were able to focus on which priorities applied to them, he added.
There are opportunities available now in the Mahoning Valley that haven't been available since the days of the steel industry, said Amy Weller, director of community and employee development for Ellwood Crankshaft Group.
Everyone needs to work together so the area can take advantage of those opportunities, she added.