Gasser Chair Co. odds-on fave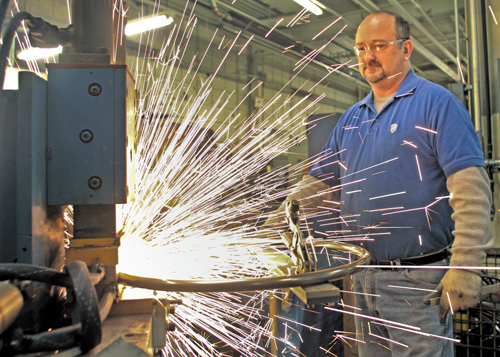 Photo
Mark Fuller, one of about 125 employees at Mahoning Valley-based Gasser Chair, welds a chair part. Gasser makes all of its furniture at its Liberty Township and Holmes County, Ohio, facilities.
By Karl Henkel
khenkel@vindy.com
LIBERTY
Anyone headed to the new Horseshoe Casino that opens in Cleveland should glance twice before taking a seat for a game of blackjack or a hand of poker.
Not that there's anything wrong with the chairs or stools, but because they're a homemade product.
Built right here in the Mahoning Valley, Gasser Chair Co. Inc. is the
official supplier of 2,855 slot and table-game seats at the Horseshoe Casino.
But it's not the first large-scale furniture order Gasser has worked on.
For the past 66 years, the company has landed big contracts and has provided seating for Royal Caribbean cruise ships, Las Vegas casinos and even local establishments such as Leo's Ristorante in Howland, Mr. Anthony's in Boardman, Alberini's, The Avalon Club and Holiday Inn Boardman.
The success of their products, however, isn't overlooked by the company, especially in an industry based solely on opinions.
"It's a very subjective thing," said Mark Gasser, president. "What's comfortable for me may not be comfortable for you."
And comfort, Gasser said, is the name of the game.
The success of Gasser's chairs isn't necessarily based on the flashiness of the upholstery or the size of the chair. Though those characteristics matter, it's how long a person will sit in the chair.
Gasser Chair Co. discovered that early, after a 1960s meeting between George Gasser and Bill Harrah, founder of Harrah's Casino. The two discovered the longer a gambler stays in a chair, the more likely he or she is to continue playing — and spending money.
"Comfort is a big item," Mark Gasser said. "Next to your waitress or casino attendant, the furniture is the next thing the customer comes in contact with."
Gasser has found a way to stand out from competitors. It starts with their in-home service, which allows the company to tailor specific chair styles and fabrics to meet the demands of its customers.
The chairs are completed constructed and furnished at either the company's 100,000-square foot Logan Way location or at its 45,000-square foot facility in Holmes County.
This includes taking aluminum extrusions from Struthers-based Astro Shapes and Youngstown-based Aerolite Extrusion Co. and forming them into chair frames, backings and bases.
But even that isn't a trivial task.
Mark Gasser said one of the biggest problems customers reported with chairs is the difficulty for which it is to move, especially those seats with round, halo bases.
When tilted, that base digs into the carpeting or floor, making the chair more difficult to move.
That's why Gasser now makes all of its halo bases with a slight upward bend.
It's modifications such as those that make providing furniture a six-month process, though the time line can get even longer.
Building the furniture for large-scale casino projects has taken as long as two years, Mark Gasser said.
"We don't make furniture for everyone," he said. "We make it for people who appreciate quality and attention to detail."