A tale of two teams at YSU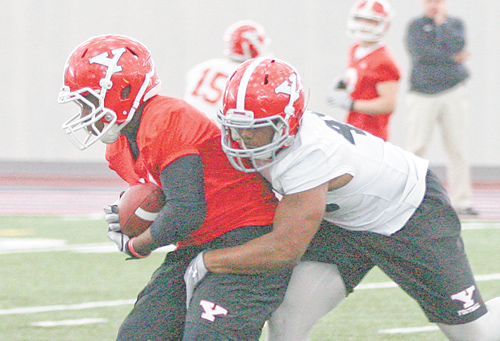 ---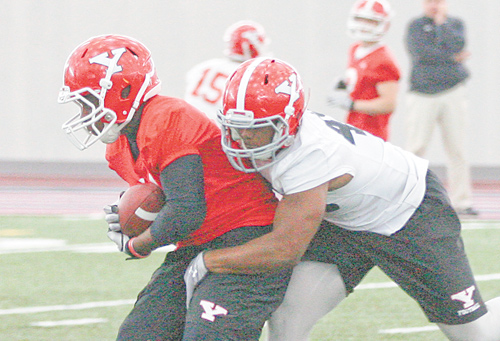 Photo
Youngstown State sophomore linebacker Teven Williams (45) tackles junior wideout Kevin Watts during Wednesday's practice at the WATTS. Williams is one of the top returnees on a young Penguin defense.
It's the best of times for the Youngstown State offense, but the defense is still searching for consistency
By Joe Scalzo
YOUNGSTOWN
At the end of an hour-long press conference previewing Friday's spring game, Youngstown State coach Eric Wolford was asked to give a fall preview.
"Do you expect to be in the playoffs next year?" a reporter asked.
"No question," Wolford said. "No question."
"Do you expect to be the best offense in the FCS?" asked another reporter.
"No question," he said.
Is Wolford's defense good enough for YSU to win a national title?
Well, nobody asked that. At this point, it's still questionable.
With 11 returning starters — including the conference's best quarterback, junior Kurt Hess — the Penguin offense has been humming along like a finely-tuned sports car this spring. But the defense is still in the garage, with new defensive coordinator Joe Tresey trying to find the right parts for the right places.
Tresey's spent a lot of time Wednesday praising his players' "engagement" and "urgency" and "motor" and not as much time talking about things like execution or performance.
"We've had our moments," Tresey said of the spring practices so far. "Sometimes we've done a pretty good job and sometimes you sit there and want to swallow your whistle.
"It's kind of been hit and miss."
YSU returns seven defensive players with at least five starts: senior DT Aronde Stanton (11 starts), sophomore LBs Travis Williams (11 starts) and Teven Williams (eight starts), senior S Jeremey Edwards (10 starts), junior S Josh Garner (six starts), sophomore CBs Devont'a Davis (five starts) and Jimmy May Jr. (seven starts).
But Tresey made it clear that the depth chart is still fluid and the team is trying to develop 22 players so the Penguins are two deep at each position.
"I say you're really not a two," he said of backups. "You have to be the next man in. When it's time to go in, you have to be able to pick up where the guy you're replacing left off and you have to do just as well, if not better."
YSU has nearly reached that point on offense, with players such as junior tackle Andrew Sinko and junior guard Fred Herdman performing well in place of injured starters Andrew Radakovich and Lamar Mady this spring.
Offensive coordinator Shane Montgomery said he's installed nearly his entire playbook and said the offense "can probably be as good as we want it to be."
"I've been coaching for over 20 years and this has probably been the smoothest spring I've had," he said.
YSU has a tough schedule — the Penguins have to travel to FCS national champion North Dakota State for the second straight year and also play at Pitt and at home against Northern Iowa in the first five weeks — and Wolford emphasized the need to stay healthy and put in the offseason work.
Wolford expected to be in the playoffs his first two years but said too many of his players were just hoping to be there.
This year, he thinks everyone is on board.
"Sometimes you have a bunch of guys that just sit around and just hope," he said. "A lot of guys just hope. They're frauds. They get all excited and they haven't really worked hard or done enough things to merit that.
"I think we're finally in position to strike."